Camp Woody's Fiftieth Season – 2006
Camp Woody's 50th Season, 2006
Part One of Two Articles about Camp Woody at Fifty
Written by Timothy Smith in 2007, File Rebuilt in 2020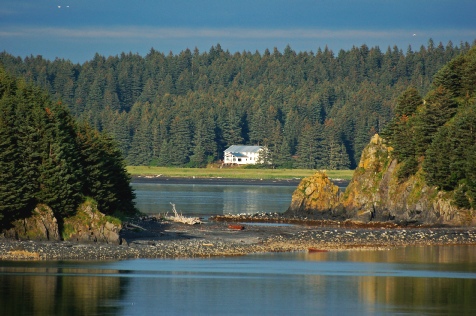 The main building at Camp Woody as it looked in its fiftieth year, in a telephoto shot taken from the seaplane base on Near Island
Left: The staff poses for its portrait on the dock during training week. Back row (L to R): Jake Ebersole, Nate Smith, Ryan Boudreau, Lisa Keith, Ashley Overstreet, and co-directors Cheryl Demus and Nick Popp. (Center, kneeling, L to R): Heather West, Adrien Lavoie, Bernadette Gomez and Jennifer Winkel. In front is Taylor Hamlett.
Right: Timothy Smith, author of Tanignak.com, sings at a campfire at the Fiftieth Anniversary Celebration of Camp Woody in August, 2006 (Joel North photo)
Another Chance to Serve, and Another Wonderful Season
Visitors to this site are familiar with my multi-part series on Camp Woody and its history through the 1970's. This article tells the story of a much more recent season: 2006. I served as lay pastor for the first camp, co-pastor for the final camp, and participated in the training week that preceded the camping season. In addition, I was the leader for the Fiftieth Anniversary Celebration, the topic of the next article. It was very special indeed to get to serve at the same camp where I had spent my growing up years. One thing that made it special was the chance to serve with our son Nathan, who became the third generation of the Smith family to serve on staff at Camp Woody. That staff of 2006 was one of the finest I have ever worked with. I hope this article gives a glimpse of what Camp Woody is like nowadays. – Timothy Smith, 2007
Notes on the photos, and this article: The photos used in this article are the copyright of the respective photographers, and used with permission. Many photos are PowerPoint frames (including captions), from a presentation by the summer missionaries at our home church, and a presentation I made in 2007 at Pomona First Baptist's International Fellowship. This article is a combination in 2020 of two 2007 articles, to focus on the "Camp at Fifty" theme.
Camp Woody at Fifty: A Hoppin' Place!
The summer of 2006 marked the tenth year of my service on staff there, and my twenty-fourth season. I was three years old when the doors opened in 1956! When I went back to serve at Camp Woody that summer, I tried hard not to get into all that "we didn't do it that way back in my day" kind of nonsense. I decided to let the place be brand new to me, and it was. By the end of the summer, I was becoming nostalgic for the events I had just witnessed rather than being stuck in the long ago.
So what is Camp Woody like in its fiftieth season? It's a hopping place, staffed by dedicated volunteers, and brought to life by all the kids who attend every year. Camp capacity is way up compared with the 60's and 70's, thanks to expanded cabin space and the new extension on the dining hall. The original chapel is simply too small, and the old Boys' Dorm now serves double duty as rec-hall and chapel (the interior walls were removed years ago). Transportation to and from camp is still a challenge, handled now with a flotilla of volunteer speedboats and skiffs. The old FAA dock is rarely usable because the ramp no longer moves, so the first day of camp resembles a Normandy Invasion as the skiffs hit the beach. But all of this is just the skin of the story. Here's what camp was like, with lots of those great photos we took in 2006. The order of events follows the order of the camps that summer.
The week before camp began, the staff assembled on Woody for prayer, planning and practice. The staff worked preparing the camper teams, the craft materials, the games, the worship songs and the devotions, and spent a lot of time hanging out and getting to know one another. Each evening, along with worship, the staff would take turns sharing about ourselves (the "life story") which helped us understand and appreciate each other. We also did a lot of hiking and had campfires at various beaches to familiarize the new staff members with the island.
Having never seen a training week before, I was impressed with the care the staff took to become as prepared as possible for the challenges to come. The 2006 team bonded quickly into an efficient and supportive unit, and many strong friendships were begun then. But the whole purpose of being there was to minister to the kids, and the place really came alive once the campers arrived!
As I mentioned, I was a camp chaplain (pastor) for the first and last camp in 2006, and in between I was in Ouzinkie with my ailing mother, who passed away shortly after being able to attend the anniversary celebration. So I will concentrate on what I saw and did, and the contributions of the amazing staff that year. (Continued below…)
PowerPoint Slides of the Staff in Action!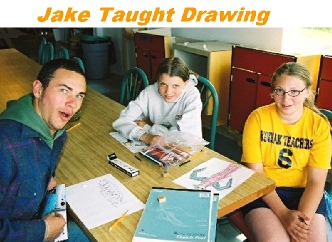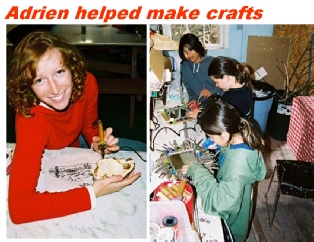 The Junior Camp (Grades 5 and 6)
The fifth and sixth graders were a delightful bunch, full of energy and imagination. As their pastor, I was put through my paces. I quickly inaugurated a "question can," where the kids could drop in their questions. One whole service was dedicated to answering those questions. The counselors and I divided up their questions, prepared our answers, and presented them. The counselors also frequently helped me with testimonies, and the team effort made for some really great chapel services. And those wonderful campers brought up things I had mentioned in the services, and discussed them with me around the tables and on the hikes. They absorbed so much!
It was exhilarating to have such an engaged bunch of young people to serve. They were so fun to hang out with! Being used to teaching high school, I found that my sense of humor sometimes sailed right over their heads. But the kids soon discovered that I could do a few impersonations, and they loved my imitations of various cartoon and movie characters. Quite a few of them could trade jokes with me for an entire hike. Their energy was astounding, and I found it hard to keep up with them at the beach. On the lake they were often real rascals. Try as we might, there was no way we could keep them in the canoes, or keep the water out of the canoes either! And wet clothes made for fascinating challenges in the cabins, I'm sure. It was a fabulous time with a really great bunch of kids.
As I mentioned in the introduction, I was not present during the high school or third-fourth grade camps. I got to spend an extended time with my mother, who was living her last summer in Ouzinkie. She passed away a few weeks after the Fiftieth Anniversary Celebration, so spending those days with her was a precious experience. But I heard a lot about the goings-on during those two weeks at camp, and here's a summary.
Senior High (high school) Camp:
The Senior High (high school) camp was one long rainstorm. But the young people had a wonderful time, and like good Kodiak residents, acted like the rain wasn't there. But besides the madcap activities, the campers and staff developed some strong relationships. The campers were more spiritually mature than is often the case, and eagerly sought out the things of God. Several of the services (including a unique communion service) were meaningful to campers and staff alike. Part of the reason for the spiritual vitality in the campers may well be the ministry called Oasis, which is a cooperative venture between several churches. It is a ministry in Kodiak that has been going on for some time, and includes regular fellowship with a praise band, teaching and prayer. Several of our staff in 2006 (Lisa and Heather, for example) were regular participants in the Oasis ministry, and I was blessed to hear the details of how God was changing lives all winter long, not just at camp in the summertime! So because of vital ministries like Oasis, many of the campers were open to what God was going to do for them at Camp Woody, even in the rain. No wonder they had a blessed time.
"Middler" (Leaving grades 3 and 4) Camp:
The camp for the youngest age group (just leaving grades 3 and 4) is always a challenge, due to the relative immaturity of the kids. It was a blessing that they got some sunshine. They enjoyed a lot of fun activities like swimming in the ocean – an activity only a Kodiak kid could love! But as with any group of young kids, there were dietary and hygiene issues that were more acute than with any other camp. Those were the stories most frequently shared by the staff when I returned to the island for the following camp. Kids at that age actually get homesick! The counselors had more intense day to day duties with this group than any other, but the kids had a wonderful time. I imagine every one of those campers will want to come back for years to come, and who knows? Maybe a few future counselors are in their midst. (Continued below…)
PowerPoint Slides: What to Do at Camp (2006 Edition)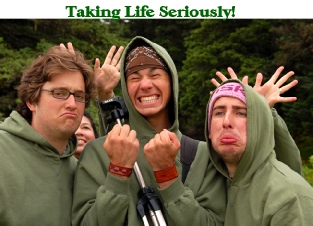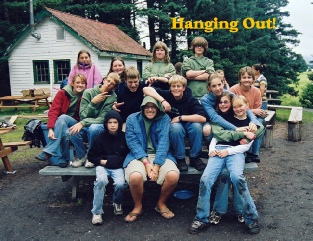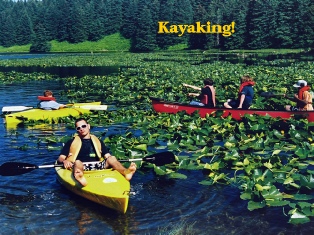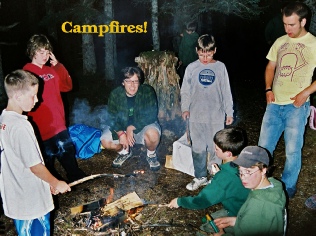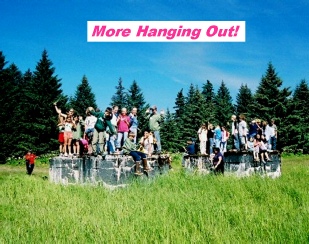 Junior High Camp
I returned to Woody for the last camp, and shared pastor duties with Cheryl Young, a youth pastor from Anchorage whose parents serve at the Nazarene church in Kodiak. I took the morning sessions and she took the evening services. I really enjoyed working closely with her. For that camp I made use of lessons I had written during my weeks in Ouzinkie (when it had rained constantly, and Mom was taking very long naps). I wrote a whole series of lessons on what it means to be a friend as a Christian, and why friendship is our high calling as believers in Christ. We are called His friends, after all!
When I shared my first lesson with the campers, I told them I would sometimes be talking about guy-girl stuff as well as "God stuff." Several of them then pleaded with me, "Please don't embarrass us!" I assured them that all I had to do was to share my own pathetic stories from when I was their age and that would be enough. We had a few laughs, but I know I shared some much-needed biblical truth with them. I wish I had heard lessons like those when I was their age. The lessons were well-received by the campers; after all, they have been bombarded with exactly the opposite kinds of thinking from movies, songs, and even teachers at school. I'm not surprised that it was a helpful series of lessons, because I got suggestions from several of the counselors before I ever opened my mouth to teach. My co-pastor, Cheryl Young, previewed each lesson with me as well, and helped me adjust and focus. Even the counselors said that the series helped them.
What was it like to work with Junior High kids? In so many ways they are prototype adults, in size, in opinions and in interests. And then a moment later they are still little kids, just capable of bigger and stronger escapades! I loved being with them. The conversations were more mature, and (wonder of wonders) they got all my jokes, too. I got a lot of "you're old but you're cool" responses. One camper even dubbed me "Pastor Tim Dude," a name which stuck for the rest of the week. A humorous highlight was when a group of seven or eight of us (me being the only adult) sat around the fire pit and quoted lines from The Princess Bride and Goonies for half an hour or so. Those are kids after my own heart! Just as warped as me! They live in a more mature world, full of enormous pressures, but for their time on Woody, they got to be just kids, in a safe environment. It was great to hang out with such wonderful young people, and a real privilege to be able to share God's Word with them.
My Closing Comments About Camp Woody (As Posted in Early 2007)
For all those old-timers, like me, who experienced Camp Woody in the early days, I can testify that it is one of God's current events. There's just no time to wallow in nostalgia; the camp is too busy being what it is now! And what it is today is a splendid place for young people to have a good time, and a compellingly spiritual place of renewal and restoration. It's easy to meet God there, and God has a way of being new and fresh with each encounter. I am pleased with the way things are run nowadays, and I'm especially pleased with the end results: young people who go away blessed, refreshed and enriched with wonderful memories and life lessons. And it's not bad to have better mattresses, real showers, and much better facilities than we endured in my day. My only regret is the bittersweet realization that our beloved old chapel (the former power plant from across the island) which was the site of so many of my spiritual blessings, is just too small for the large number of campers that Woody can accommodate now. But after only one service in the old BOQ (the recreation hall now) I could plainly see that God is extremely present in the daily life of Camp Woody!
What did I personally learn from my summer at Camp Woody in 2006? There were the usual lessons of faith and trust which we always seem to need to relearn whenever we step out to serve God. But I also learned that God can do a new thing. I went to Woody trying to have no expectations, intentionally trying not to predict what would happen. I also tried to put out of my mind the inevitable comparisons with Camp Woody the way it functioned in the 1970's when I was previously on staff (or the previous decades, when I was a "camp brat"). It would have been a perfectly awful experience if I had spent my time complaining about how "it wasn't done that way in my time." Camp Woody gets along just fine without nostalgia. In fact, it is a fresh and new place, with fresh and new lessons to be learned at every turn. I learned valuable lessons of friendship and service. I was part of a wonderful fellowship of believers, and that is deeply meaningful whenever it occurs. I may know that island and its terrain very well, but one can never predict what God will do next. That was a wonderful thing to be reminded of. And if I am ever blessed with the opportunity to go back there and serve, I will simply expect God to do His own new thing, all over again! He has been doing that for fifty years at Camp Woody. I will end this article with some of the great quotes from the 2006 staff.
Quotes From The Staff of Camp Woody's Fiftieth Season: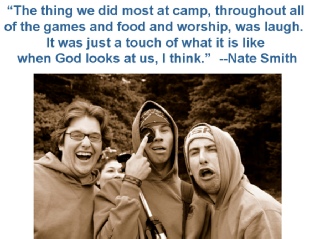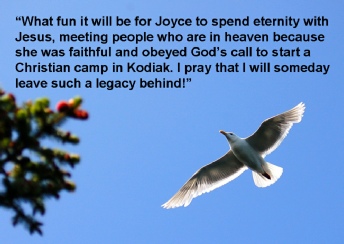 To access more camp articles or return "home,"
Click on the links below: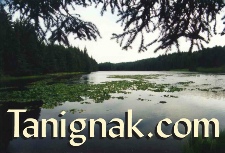 Information from this site can be used for non-commercial purposes with attribution. The text of all the articles on Tanignak.com and TruthTexts.com are copyright 2020 by Timothy L. Smith (see the "About Tanignak.com" link). The photographs are copyright the estate of Rev. Norman L. Smith, or are copyright Timothy L. Smith unless otherwise attributed. Many thanks to the people who have shared their stories and those who have allowed me to use their photographs on Tanignak.com!