Camp Woody at Fifty (The Reunion Celebration)
The Reunion for Camp Woody's 50th Anniversary
By Timothy Smith, 2007 (Revised in 2020)
Introduction:
Camp Woody's Fiftieth Anniversary Celebration was held in August 2006. It was a weekend event that was blessed with great weather and enthusiastic participants, representing every decade of its existence. As chairperson of the reunion, I was delighted by the turnout and by the spirit of that weekend. It simply turned out great! The following scrapbook features photos taken by Joel North, Mat Freeman, and Ryan Boudreau. Un-credited photos were taken by me. My text and the photos tell a little of the story of a remarkable weekend.
The Reunion Logo, used on the web page and all correspondence, was patterned after the maps and hand-printed signs that Marianne Boko made at camp in the 1960's and 70's.
IN MEMORIAM: The Grand Ladies of the Reunion, my Mom Joyce Smith (left) and Wanda Fields, had a wonderful time visiting with each other. Mrs. Fields was one of the pioneers of camping at Abercrombie and Long Island in the early 1950s, and it was a real pleasure to welcome her back to camp. This was a rare moment when they were alone. Everyone wanted to talk to these two, who shared so much history between them. Wanda Fields recently published a book on the Kodiak cattle industry titled Now it Can Be Told. Both of these wonderful ladies were taken from us before the next summer came.
In Memoriam: Joyce Smith
Although we did not know it at the time, this grand reunion was to be the last big event of the last summer of my Mom Joyce Smith's life. So the reunion was a fitting sendoff for one of the chief architects of Camp Woody at its beginning, a tireless worker who guided its development through most of its first three decades. Mom Joyce was the keynote speaker at our final service, and although her body was tired, she spoke of Camp Woody's past and future with a fire and passion that none of us who were there will ever forget. The reunion was an event she had been eagerly anticipating, and as we suspected, she only lasted a few weeks beyond it, slipping peacefully on to her reward surrounded by friends in her little office in Ouzinkie in late August, 2006. She went Home on her own terms: in her house in Ouzinkie, attended by people who loved her.
In Memoriam: Wanda Fields
The Reunion was also the last time many of us got to see another grand lady from the pioneer days of Kodiak: Wanda Fields. She was such a delight to be around, and it was a blessing to have gotten reacquainted with her. All the old-timers (for example, those who grew up in the Mission in the 1950's and were the first wave of campers) were honored to spend time with her. Wanda Fields' recently published book, Now it Can Be Told: Stories of Alaskan Pioneer Ranchers, recounts the amazing story of cattle ranchers on Kodiak Island, and the Fields family's pivotal role in that circle of spunky pioneers. It also features photos of the Fields' involvement with the Mission, my parents, and camping on Long Island (which morphed into Camp Woody in 1956).
Mat Freeman's original design (left) became our beautiful sweatshirts for the reunion. It was Mat's idea to include the Evangel, used for the first 25 years of camping, in the design. This pleased the old-timers like me greatly. Right: This is the poster that I made for the reunion, which my brother Kelly and I plastered all over town.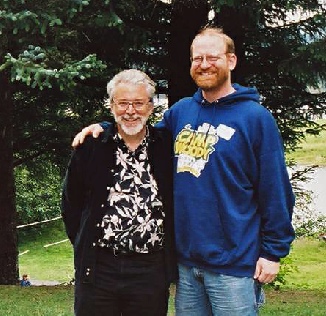 A former camper in my cabin for at least three years in the 1970's, Mat Freeman towers over me now. He's a church leader, camp board member, and respected teacher in Kodiak. What a privilege to have his handiwork as a part of the Camp Woody Reunion.
Preparing For the Celebration, with the Smith Family and the Boko's
The weeks leading up to the reunion were hectic for me for several reasons: I was serving as a chaplain at camp for part of the time, Kelly and I were taking turns caring for my Mom, who was having serious health issues, and I was trying to arrange for sweatshirts, publicity and staffing, all at the same time. But somehow it all came together. The camp board was very supportive. They let us use the camp for the entire week before the reunion, which helped immensely. This also gave the out of town and out of state guests a place to stay if they came in a day or two early.
The Mission boat Diakonos went to Ouzinkie and brought my Mom, Joyce Smith, and mys sister, Robin LaMonte, flew in from Oregon. Kelly got time off work, making a partial but wonderful family get together! I was glad that Marianne Boko, who had spent about twenty seasons on camp staff, her daughter Gaby and Gaby's husband Bob, had a chance to be on Woody and enjoy the surroundings a few days early. We hadn't seen Marianne and Gaby since 1975, and that was a great mini-reunion just for our two families.
Our Little Reunion Before the Reunion:
The Reunion Celebration Begins: Friday Night
Clearly on Kodiak time, most of the guests arrived at Camp Woody a little late, as various boats and skiffs waited for just one more person. But we got going with a great evening meal which ended with a cake celebrating camp's birthday. The ages of the campers ranged from toddler to octogenarian, and the multigenerational family made for a big change from the usual camping-season crowd. Everyone got a cabin, and everyone's gear got stashed, and camp tasks got done quickly. That's because almost every adult there had been a frequent camper or had been on staff, and everyone knew the routines.
One family, Dana and Lynnette Martins and their enthusiastic kids, had found the camp reunion quite by accident. She had been on the camp staff in the 1980s, and found out about the reunion from the proprietor of the bed and breakfast they were planning to stay in. He insisted that they go to Woody for a night to participate in the reunion. They got one of the cabins in the trees all to themselves, and seemed to enjoy their time at Woody more than anyone else!
The first evening's dishes were dealt with especially swiftly, because that meal marked the inauguration of the new high-efficiency dishwasher. Ty and Jon, the husbands of the Questa and Karen cooking team, had a blast breaking in the new machine, hauling out sparkling, dry racks of dishes almost as fast as they had put them in. What a change from the old system! After dinner, we went to the recreation hall/chapel for some PowerPoint photos of camp in the 1950's and 60's, with plenty of embarrassing snapshots of the oldsters as youngsters.
We went down to the beach for a campfire as the sun set. All but the youngest kids (and Mom, who was too tired) enjoyed the songs and the conversation around the roaring fire started by Nathan Lambert, veteran of ten seasons on staff. Then Jared Young reminded me about our secret stash of fireworks left over from the Fourth of July. He and some young friends quickly recovered it from its hiding place in the craft building, and the kids wasted no time in setting them off. I say kids, but Jon and Ty were right in the middle of it!
About that time, magic happened. Around the corner of Near Island came the Kennecott, the Alaska Marine System ferry that's too big for the Kodiak channel. As we saw it approaching, everyone had the same idea: to light off all the remaining fireworks as it passed. The timing was about perfect, as the majority of our remaining rockets and fountains erupted just as the ship was abreast of the beach. They acknowledged us with a loud burst of the foghorn. Wonder what they thought was going on? The tourists on deck were probably impressed with the sendoff that Kodiak gives to the ferry. Come back in fifty years and we'll try another display for you! The photo I took just doesn't capture the amazing sight of the brightly-lit Kennecott, framed against the dark islands, greeted by bright explosions of color. We couldn't have planned that in a million years. (Continued below…)
A Friday Night Photo Album:
The Reunion Celebration: A Busy Saturday
The morning weather was a bit "iffy" on Saturday, but we had a great breakfast and then a short devotion time. I called together a staff meeting (actually, anyone who was free to come, because the whole camp was made up of old staffers) and we decided to head on out on a hike for lunch on the beach. The weather began to clear even before we set off. The best beach that could be reached by truck was "Scout Beach," below the old FAA station, directly across the island from camp. The oldest and youngest were plopped onto the flatbed truck, while the rest of us hiked there by various routes. No need to plan too specifically for this crowd; everyone found a multitude of things to do on the way and once we got there. The Harper-Young cooking team provided a great cookout lunch, and everyone enjoyed the company of a once in a lifetime collection of Woody people.
I greatly appreciated the privilege of getting to know the Lamberts and the Bowmans, staffers who had been so much a part of the Woody legacy during the two decades after I worked there. Our friend and frequent visitor from the summer of 1975, Joe Ritchie and his wife Darlene, made the trip from New Mexico for the reunion, and it was wonderful to renew our friendship. Bruce Adams, who had served at Woody in the 1970's and had been one of my best friends ever since, brought his daughter Sarah up to the reunion to serve as video archivist. But I was especially blessed by my "camp girls," Zelanna, Nadina and Helen, who had been campers during the earliest years, when I had been just a camp brat. They came from as far away as Nevada and Florida to be there. They were so fun to be around, carrying on like a group of Junior High girls! Woody has a way of doing that to people. And everyone was honored to spend time with my Mom, Joyce Smith, whose years of service to the camp had helped to build it and shape its destiny. (Continued below…)
Saturday Morning Snapshots: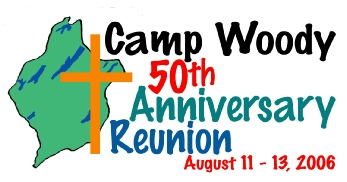 Bob Beerman, Gabie's husband (right) visits with Larry LeDoux on his boat as he takes them to Woody. Larry served many years at camp as a counselor in the 1970's , was best man at my wedding, and has gone on to be a distinguished church leader, educator and public servant.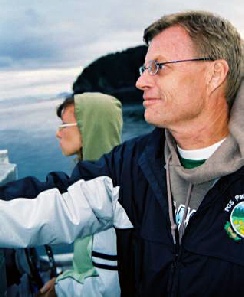 At the helm of Larry's boat is Sarah Adams, while her dad Bruce looks on. Bruce served as a counselor in the mid-70's, and has since helped me with many music projects. We have recorded many of the songs we did at camp. Bruce has been a chemist in California, a village school teacher around Kodiak Island, and now teaches in Kodiak.
Mab and Gabie Return to Woody:
Top Left: Marianne (Mab) Boko, the source of so many wonderful photos (see the articles on Camp Woody in the 50s through the 1970s) and one of my mentors in photography, waits patiently on the old dock for a shot of the bald eagles that hang out there. A new, smaller digital camera has replaced her old Pentax Spotmatic SLR.
Bottom Left: Bob and Gabie Beerman try to get dry by the dining hall wood stove after a damp hike across Woody, while Marianne looks on. Gabie and Bob later nearly got stuck trying to climb over (rather than around) Garraboon Point, but that just added to the memorable experiences of the trip!
Right: Mab and Gabie pose on a log at the far end of Sawmill beach. They had not been back to Camp Woody since 1975, when Gabie was very young.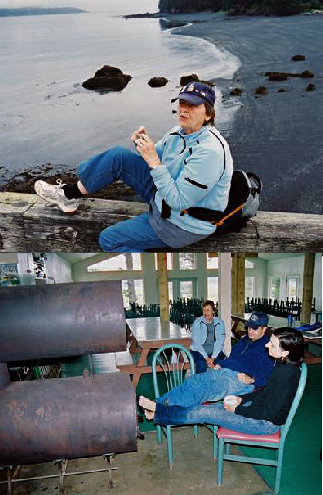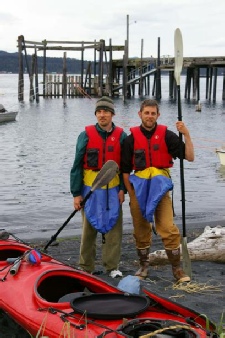 Most unusual arrival (for anyone else but them): the North boys, Andrew and Joel, arrive from Kodiak by kayak, August, 2006.
Drew helped out every summer with the cooking at the Kodiak Baptist Mission. Joel was full time staff at the Mission, working with the after school programs in the schools, and running various outdoor adventures for kids as part of the summer day camp. Their father, Travis North, was on staff at Camp Woody from 1969 to 1972, and took many of the camp photos featured on this site.
The Martens found out about the reunion by accident. She had been on staff at Camp Woody in the 1980's. They had a wonderful time at the reunion, and it was an honor to meet them.
Surrounded by eager kids, Ty Harper cuts the Reunion birthday cake after Friday supper, with Questa Harper and Karen Young in the background.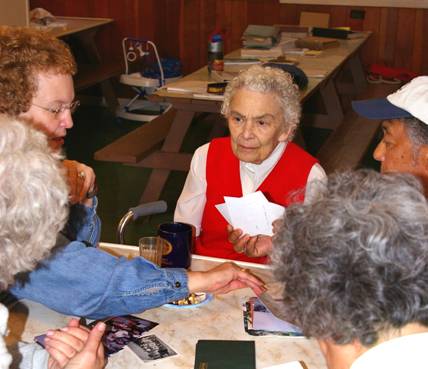 Joyce (center) listens intently to Zelanna Copsey as my sister Robin (left) and her husband Al (right) look at photos from Nadina's collection (near right). Joel North photo. Nadina, Zelanna, and Robin were all first-generation campers from the summer of 1956.
Leftover Fourth of July fireworks got put to good use! My photo doesn't really capture the spectacle of the fireworks we set off as the Alaska State Ferry M/V Kennecott passed Woody Island. A few seconds after the last explosion, they honked the foghorn once.
Lindsay and Nathan Lambert pose as close as they dare to the campfire (which Nathan started). It was a delight to get to know them and hear stories of Camp Woody in the years after I left it. Nathan was a real asset to camp over many years, and it was good that they could come and participate in the reunion. Mat Freeman photo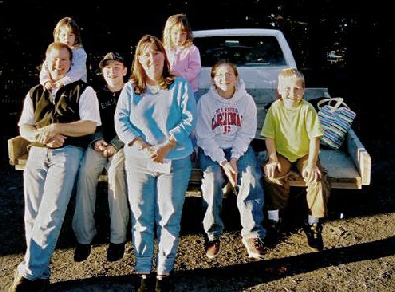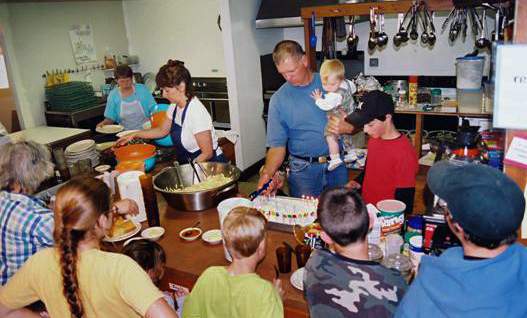 Top: Nancy and Elaine (who was a camper back in the 70s) enjoy one of camp's canoes on Tanignak Lake. Bottom: Helen and Nadina enjoy Tanignak Lake. I think everybody felt like a youngster that weekend! (Both are Mat Freeman photos)
Top: Lunch on the beach gave opportunity for Nadina, Helen and Zelanna to do more visiting with Joyce and Wanda. Ryan Boudreau, our tour guide to the Arch after lunch, is in the striped sweater, while Nathan, Lindsay and Amber chat in the background. Bottom: Lunch on the beach, with a fine finish of s'mores! The Martens family, with my brother Kelly in the plaid shirt, and Zelanna (center). Bottom photo from Joel North
Top: Bruce Adams interviews Joyce Smith after lunch (Mat Freeman photo) Middle: Mrs. Fields, Mrs. Bowman and Mrs. Zimmer (with Claire Harper) enjoy an after-lunch chat (Joel North photo). Bottom: The Bowmans, camp directors in the 1980s, were happy to meet the staff from the years before and after their service, and to reconnect with old Woody friends. Below Left: Chilli Bowman at camp, winter of 1990 (Camp archive photo)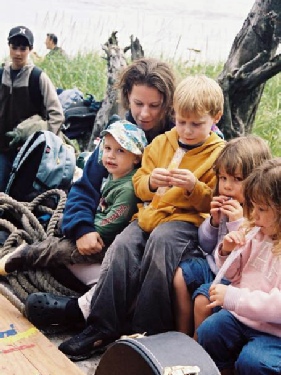 Right: Multigenerational! The Reunion was fun for kids of all ages! Here, some of the youngest hitch a ride back to camp after lunch, while Jarod Young (the guy who remembered our stash of fireworks the previous night) helps load the truck. Bonnie Callahan, daughter of Diedre Bailey, longtime camp cook, brought her kids, who fit right in with all the other young Harpers and Martens etc. I was only three when Camp Woody began!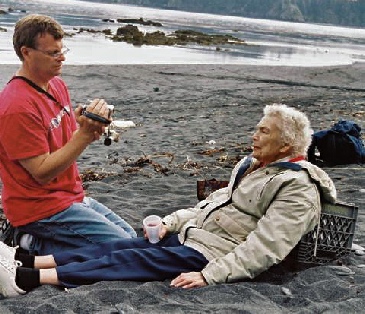 After lunch, my fellow 2006 staff member Ryan Boudreau (he of barbed wire fame in the other 2006 articles) and his brother Curtis volunteered to take anyone interested on a tour of the Natural Arch. Ryan may have had an ulterior motive because of a secret he had hiding nearby. (Those brothers had several secret homemade thrill rides in various parts of the island, which they had hidden there over the years, including a real buoy swing over a cliff on a hill behind the Chaffin's cabin.) They had stashed a net in the treetops near the Natural Arch, and of course we wanted to visit that, too. The net made for a unique trampoline, high above the forest floor, within feet of a steep cliff. Not for the faint of heart, but perfect for the Boudreau brothers and other equally adventurous types!
We scrambled down the cliff below the tree net, using an old ladder that had been stashed there, reaching the little beach that runs beside the Natural Arch. It's a beautiful beach, and the Arch is always quietly stunning as Woody Island's most unusual natural feature. We were quietly enjoying the scenery when I remarked that we used to have fun there jumping up and down on the trunks of the trees that had slipped off the cliff. That's when I noticed that right in front of me was a splendid sample, its long trunk worn silver by its time in the surf, but still plenty supple. We all spent the next who knows how long trying to stay on the log as others pulled it up and down. It was spontaneous, hilarious and a ton of fun, as the photo montage will attest!
Saturday Afternoon at the Natural Arch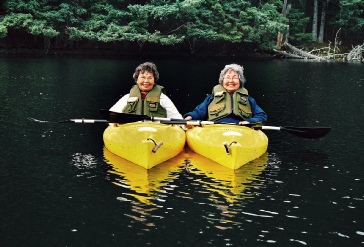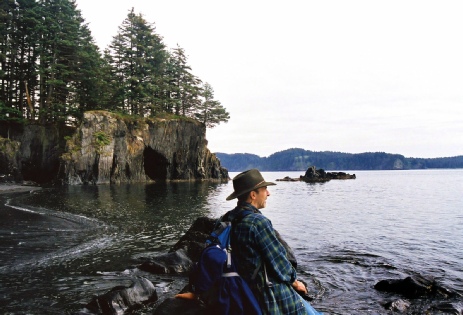 Below: Joe Ritchie (1975) at the Arch. Right: Joe and his wife Darlene on the lovely little beach on the far side of the Arch, which involves a climb up a cliff and down a steep trail to the sand.
Dead Tree Thrill Ride: When the storms in the winter dislodge the cliff face, spruce trees fall down into the surf. This one has been there awhile, and is well bleached by sun, water, and sand. And it makes a fabulous thrill ride. Sit on it and try to hang on as someone goes to the tall end and pulls it down. Tow two photos: Curtis pulls down on the trunk. Bottom Left: Joel tries his luck at staying on. Bottom Right: I'm further down the trunk, so it's not so bouncy, but it's harder than it looks. Kelly looks on, amused!
The Arch has been a favorite hiking and hanging out spot for camp for over fifty years. The Natural Arch from the top (back side) is a narrow channel below a steep cliff. Left: without an ultra-wide angle lens, this composite shot is the best I could do. On the right, I am one or two steps to the left of my vantage point for those shots, and several steps from the edge! Mat took that photo.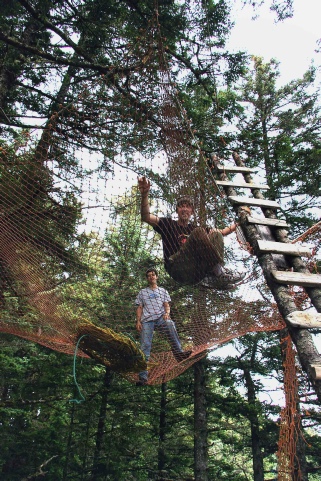 Left: Near the spot where the above photos were taken is this creation, built by Ryan and Curtis Boudreau. Curtis (in the rear) and Andrew North stare down from a high net strung between trees on the point above the arch on our reunion weekend hike. Some camp staff have tried sleeping up there (not me!) – But if anyone moves, everyone wakes up! Besides, cold air on all sides doesn't sound comfortable either.
We all finally made it back to camp in time for supper, collecting from various corners of Woody Island with a hundred stories to tell. That supper Kelly and I tried to sing a couple of songs around the tables, like we had in the 60's and 70's, but that wasn't the mood anyone was in. We all decided that at least we could say we'd sung around the tables for old times' sake. But we were there to fellowship, not try to capture what worked in the past, and the dining hall was filled with happy conversation. Everyone had so much catching up to do! After a remarkable summer on staff, the reunion for me was more about celebrating the present. And Camp Woody is clearly a current event. Even the oldest former campers caught that immediately, getting right into the spirit of things. I was especially happy to see Larry Le Doux at the dinner table, another of the dedicated staff from my era in the 1970's, as well as Felicia McFarland and Mat Freeman, who had been favorite campers in those days and are now enthusiastic adult supporters of Camp Woody.
After supper we again watched some PowerPoint slides, including my time on staff in the 1970's and all I had collected of the years when I was not there. Nathan Lambert had many albums full of photos, and unfortunately I was just able to glance at a few of them (and alas, none were available to me when I made the PowerPoint). How do you cram half a century of human experiences into a weekend? Well, you can't! But we all did have a wonderful time sharing across the years and generations with each other.
That evening we had another campfire (no way to repeat the drama of the previous night). We sat around the fire swapping stories of our many experiences at camp. Nathan had a lot of questions about how things had been done in the old days, and I heard a lot of cool stories about the years after I left. I was struck by the fact that some things work now that didn't then, and some things we did routinely back in the day would not be meaningful if we tried them nowadays. I was also struck by the fact that there are two unchangeable truths about Camp Woody: the island is always beautiful, and God loves to move there every summer! The conversations kept going as we all slowly walked back to camp, and continued long into the night in the various cabins. There was just so much to share!
Saturday Evening Together
Kelly, Bruce (in red) and I tried singing around the dinner tables, but we gave up so we could spend more time visiting. Mat Freeman, Larry LeDoux (looking away) and Sarah Adams are in the foreground. Below: Joel took a photo of the same table above as dinner was wrapping up. Mat (left) and Larry chat with some of the young people.
More songs, more memories…the second night of the reunion was even more spectacular than the first, but we had no more fireworks, so we sang a few songs, talked about what makes Camp Woody work after all these years, and shared a few horror stories of times when things just didn't go right. I wish I'd had a video camera; those stories were amazing. We all enjoyed the campfire, friendship and spectacular scenery until late that evening.
A Sunday to Remember
The weather was spectacular on Sunday morning, and as usual, the food at breakfast was fantastic. But the main event of the morning was the closing service that we had in the recreation hall. All four of the 2006 counseling staff members that were still in Kodiak managed to make it over for that service, and it was a great honor to have their help. I showed a short PowerPoint of photos we had taken that summer, to explain what the place is like when overrun with energetic campers. Then we all talked about what it is like to serve at Camp Woody now. It was very meaningful to all of the old-timers to see proof of camp as a living, vibrant, present reality.
Evan John Jones, who served ten years on staff in the 80's and 90's, spoke about the camp and its legacy. "What did you come to see?" he asked. He said that the thing to notice this weekend was that Camp Woody is not a fifty year-old youth camp on a cool island, but is a place where people come to know Jesus Christ and begin a lifetime walk with Him. Do we see the incredible, eternal spiritual legacy of that place? Camp is merely a conduit for the power and love of God that has flowed through it for half a century.
Then Mom, Rev. Joyce E. Smith, the weekend's guest of honor, got up to speak. Tired out from all the excitement, and barely able to walk that morning, she stood holding her walker as I held the microphone for her. As she spoke, her eyes shone and her voice was strong as she shared what God had done. She spoke of the struggles of the early years, of losing a site for a summer camp and the miracle of getting the camp property just weeks before the opening season of 1956. She spoke of the continuing miracles of the following decades. And she stated that Camp Woody was living proof that "What God chooses to do cannot fail!"
I stood fighting back the tears; we all knew what she represented, as one of the last of Camp Woody's original pioneers, and one of its chief visionaries and architects. I also knew, as the rest of the family did, that this was probably her last summer on earth. Thankfully, her last sermon was videotaped, but even without it, none of us who were there will soon forget the passion she showed in her eyes, and the powerful words she spoke from her heart. It was, as we expected, the high point of the reunion. She went to be with her Lord just three weeks later.
After such a moving experience, the reunion closed out with a meal out on the picnic benches, with salmon, burgers and other delicacies cooked by Ty Harper and Jon Young. There were many more conversations, many exchanges of addresses, and then it was time to go home. It was a splendid celebration of a remarkable place, made special by all the wonderful people who have made Camp Woody their own.
Scenes of a Powerful Sunday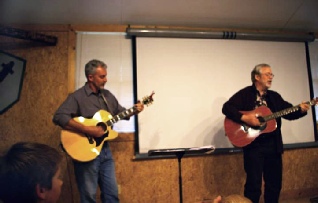 Left Photo: My brother Kelly (left) and I led a few worship songs on Sunday morning. Right Photo: Tim and all the 2006 staff we could round up tried to teach the silly "Camp Woody Song" (which ended up a hilarious failure). Then the 2006 staff got a chance to share what it was like to serve at Camp Woody.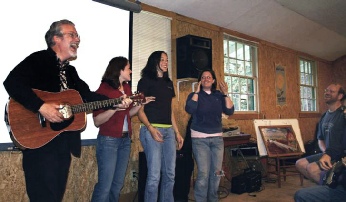 Left: Evan and Cindy and other staffers at Woody in 1990 (Camp archive photo). Right: Evan Jones speaks at the final event of the reunion, Sunday morning. (Joel North photo) He served at Camp Woody for ten seasons.
"What did you come to see?" Evan John Jones shared at the Sunday service, explaining that it's the Spirit of God and not the scenery that has made Camp Woody a life-changing place. If you come to camp for the food and fun, the silliness and the adventures, the chance to hang out with great folks – you may very well end up seeing God at work. Because that's what Camp Woody is all about. After the service, he led us on one of his famous history walks. He may well know more about Woody Island history than anyone else alive.
Left: Joyce Smith leads a Bible study in the summer of 1957. Right: Joyce Smith delivers her last sermon in the closing service of the reunion, while I hold her microphone and try to keep from crying. It was a memorable moment for everyone in attendance. (Joel's photo)
Mom started with the dream of Christian camping in Kodiak, the early struggles, and the sudden and miraculous receipt of the camp property. Then she spoke of the continuing miracles and life-changing blessings that have flowed from the humble little camp of leftover military buildings and its crew of intrepid and tireless volunteers over the years. What she emphasized most of all was, "What God chooses to do cannot fail!" It was her last public appearance. She went home to Ouzinkie rejoicing at the great blessing that the reunion had been for her, and went home to be with the Lord three weeks later.
In Memoriam: Joyce E. Smith, 1917 – 2006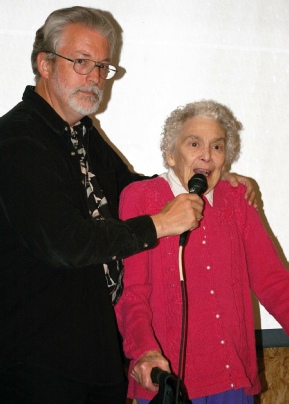 The Farewell Picnic: Jon Young mans the barbeque while Karen looks on.
The relationship of the Youngs and the Harpers was a delight to watch, and the reunion's food service was just about the best I've ever experienced on Woody. I was especially lucky, because the Youngs and the Harpers worked at camp in 2007 also, and I got to develop an even deeper friendship with them when I served that year. People like these are what make Camp Woody great after all these years!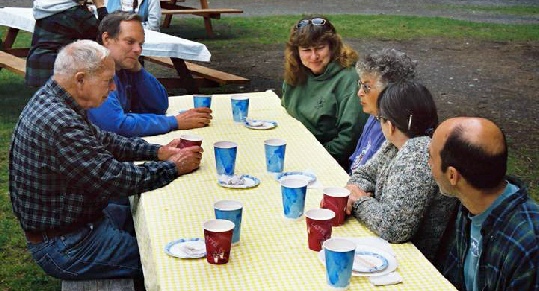 Ron and Mabel Quilliam, camp directors (end of table) chat with former directors the Bowmans, while Darlene and Joe Ritchey listen in.
In Memoriam: Bill and Beryl Torsen (center and right) chatted with Zelanna Copsey on the last afternoon of the reunion. (Mat Freeman photo)
Zelanna's father, Bill Stone, was superintendent of the Kodiak Baptist Mission when Beryl worked as a houseparent in the cottage in Ouzinkie after World War II. Beryl met and married Bill Torsen, who grew up in Ouzinkie. She was my Sunday School teacher while she lived in the village in the late 1950's, and after moving to Kodiak, became the dean of camp cooks at Woody, among innumerable other jobs. Bill Torsen was one of the best fishermen in the fleet, and piloted his tender, the Voyager for many years, pioneering alternate seafood products such as scallops. Bill was also closely associated with Woody, because for years he was the captain of the FAA vessel the Fedair IV, which served the FAA station on Woody until it closed down.
Top: Ryan Boudreaux snapped this tree top photo with my camera…
Bottom: …just as this photo was being taken. Joyce is flanked (left to right) by Zelanna, Nadina and Helen, campers from the first year of Camp Woody!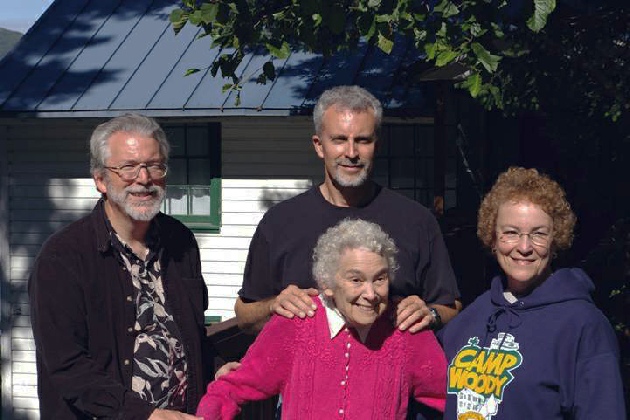 Above: Members of the Norman and Joyce Smith family: Tim, Kelly, Robin La Monte, and Joyce, part of the first three decades of Camp Woody (Joel North photo)
The Smith family at Camp Woody Through the Years: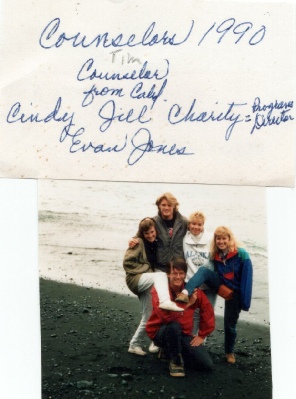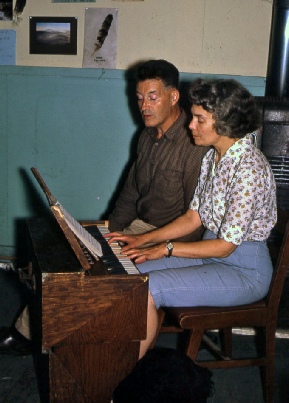 The Norman Smith family at camp – Top Left: Dad in the Evangel arriving at the Woody Dock, 1963. Top Right: The Smiths atop the Evangel at Woody dock, L to R - Timmy, Jerilynn, Joyce, Kelly, Norman, Robin (not shown- Noel. Mab Boko photo, 1963). Center Left: Norman and Joyce at the Evangel's pump organ, camp dining hall, 1967 (Mab Boko photo). Center Right: A family portrait at camp, 1957 - L to R: Noel, Norman, Joyce, Jerilynn. Front: Timmy and Robin. Bottom: A Mab Boko photo of Norman Smith in his signature blue hooded sweatshirt, in the camp skiff heading to town, 1968. Inset: Kelly runs the camp van, 1975 (Mab Boko photo)
Left: Tim and Debbie in the Evangel, 1975. Right: I'm wearing the Fiftieth Anniversary sweatshirt at the Saturday night campfire of Camp Woody Reunion, August 2006
Support Camp Woody's Continuing Ministry!
This article was revised and expanded with additional photos in 2020. I wrote the following epilogue in 2006, after returning home from that amazing fiftieth anniversary season:
The Reunion is over. Fifty years have passed, and the next fifty have begun. Camp Woody will continue, God willing, and will be a blessed place as long as those who guide it allow the power of God to flow. As one who has been a part of Camp Woody in its earliest past and in its present, I know that is exactly what will happen. This is not mere sentimentality. If you wish to be a part of the continuing legacy of Camp Woody, please consider one or more of these options!
Donation: You can send a generous donation by check to their mailing address, or contact the camp board for information on how to help.
Staff Volunteer: There's lots of need each year for cooks, counselors, managers, chaplains, directors and the like. Contact the Camp Woody board if you feel the call!
Construction Volunteer: they always could use a volunteer (including construction and repair duties before each season).
Prayer: And of course you can pray. This is undoubtedly the sing le best task of all. There have been countless stories of blessing during Camp Woody's first half-century, and I'm sure all of them involved someone praying for that ministry. I will never forget the couple in Kodiak, many years ago, who had a vision of a great spiritual battle being waged over Camp Woody, and spent the entire spring in prayer for the camp. The resulting season was one of our most spiritually rewarding, and I still hear from people who were touched forever by what happened to them at camp that particular summer. You probably know similar stories. So pray for a deep and powerful move of God at Camp Woody, whenever it comes to mind.
Personal Thanks: Thank you to the Camp Board for keeping Camp Woody running for all these years. Thank you for letting me be a part of camp after a couple of decades away; it is possible to resurrect fossils after all! And if you enjoyed this web article, or if you caught a mistake, remember I love hearing from you! (links are below)
–Timothy Smith, Camp Woody 1956-1977, 1998, 2006, and 2007
To Return to the Camp Woody Articles,
Or to go to the Tanignak.com Home Page,
Please Click on One of the Links Below: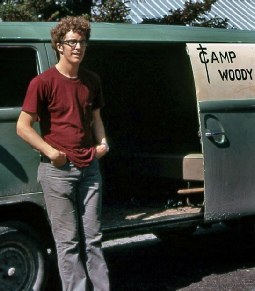 Information from this site can be used for non-commercial purposes with attribution. The text of all the articles on Tanignak.com and TruthTexts.com are copyright 2020 by Timothy L. Smith (see the "About Tanignak.com" link). The photographs are copyright the estate of Rev. Norman L. Smith, or are copyright Timothy L. Smith unless otherwise attributed. Many thanks to the people who have shared their stories and those who have allowed me to use their photographs on Tanignak.com!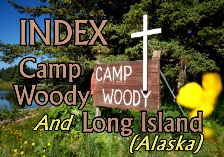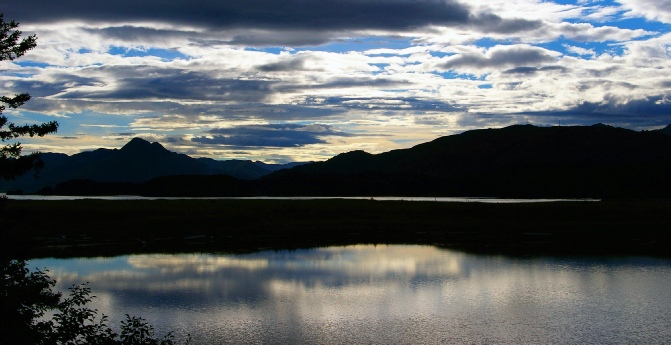 Above: A lovely sunset over Mirror Lagoon towards Barometer and Pillar Mountains, August 2006. Photo by Joel North.
An Epilogue by the Chair of the 50th Anniversary Reunion: