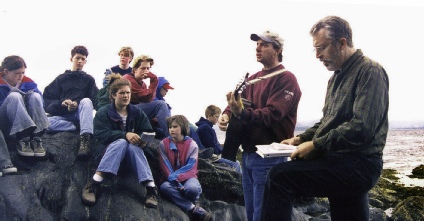 Return to Camp Woody 1996-2005
Introduction:
My wife Debbie and I were far away in California for eighteen years, working and raising a family. We wondered if we'd ever get back to Kodiak and Woody Island. Thus it will be someone else's job to tell the story of Camp Woody in the 1980's and 1990's, and I hope someone does. But I was to eventually return to Camp Woody, and even work there. Debbie and I visited Camp Woody with our kids in the summer of 1996, showing our family all the familiar places. It was wonderful to see the place still in action, and looking fresh with all the improvements. We tried the swing, and even posed beneath the same tree where we were married. Debbie held a bouquet of wildflowers that Sarah Adams and our daughter Kirsti had collected for her. It was a fun, heartwarming and sentimental return visit.
Then in the summer of 1998, I was asked to be chaplain (pastor) of the Junior High camp, and I enthusiastically accepted. It was a rare and eerie feeling to be asked to take on a role that my own father had taken for so many years. I don't think I did half so well. But the campers seemed to hear what I had to say, and often came to me with questions, so some of it got through. One of the most meaningful occasions was when my old friend and mentor, Yule Chaffin, came down from her cabin just to hear me do a chapel service. That was a great honor. Camp Woody will always have a very firm hold of my heart, and I'm delighted that I have been able to return and serve.
For more Camp Woody memories and lots of great photos, follow the Camp Woody logo link at the bottom of this article.
Below: The main camp building on a beautiful sunny day in the summer of 1998.
Return to Camp Woody '96 to '05
A Scrapbook of Return Visits to Camp (Including Volunteering in 1998)
Written by Timothy Smith in 2006, Revised 2020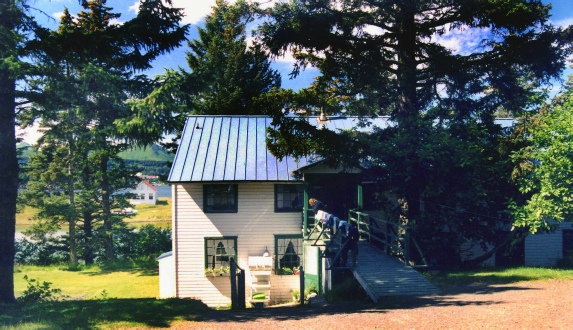 A Landmark Disappears
Although not affecting camp or my story directly, I wanted to document the disappearance of a historic 1915 concrete structure on the northern shore of Woody Island. During the timeframe of this article, a landmark of Woody Island history disappeared, replaced with a shed. Across Mirror Lake (from Baptist orphanage days to the Tidal Wave) and across Mirror Lagoon more recently, stood a venerable survivor of the old Navy wireless days, used during the camp years as a garage for FAA vehicles. The concrete, two-room structure is in innumerable photographs for generations. But by 2005, it was gone. These photos chronicle just a tiny part of its almost century-long history (since I'm a Kodiak area history buff).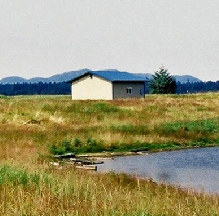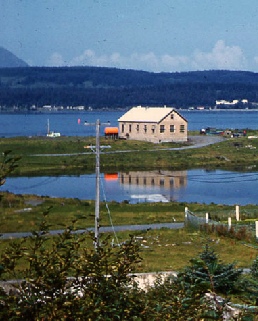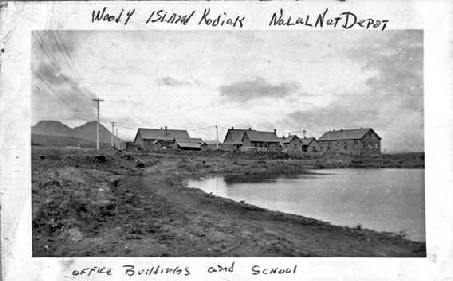 Top Left: The Navy's wireless station on Woody Island from the channel in 1914. The white Baptist Mission buildings are to the left are across the lake (Travis North collection). Top Right: a photo from a man stationed at the Naval Net Depot, 1943. The building is on the far right. Bottom Left: a 1958 slide from near the barn, Mission foundation visible in the foreground. Bottom Center: the 1915 structure in its paint scheme from the 60's to the early millennium, taken in 1996. Bottom Right: the shed on the site now (2005 photo). The old wireless building was the last surviving original government structure on Woody.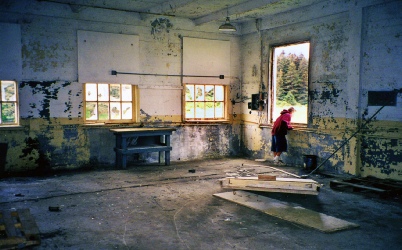 Top: Nate and I explore the old building shortly before it was demolished, 1998.
Our First Family Trip to Alaska – 1996
By the time Debbie and I got a chance to return to the Kodiak area, eighteen years had passed since we'd left. In the summer of 1996, we brought our two children, Kirstin and Nathan, to see the state where their dad grew up, the island where their dad and mom worked together at the camp, and later got married. It was also a chance to visit Grandpa and Grandma Smith in Ouzinkie, the last summer that Rev. Norman Smith was alive. We visited Kodiak, staying with Bruce and Christine Adams and their daughters, and we got a grand tour of not only Woody Island, but Long Island, too. What an experience to bring my family up for such a nostalgic and informational journey! Below are some photos from that 1996 trip.
The Smith Family Visit in 1996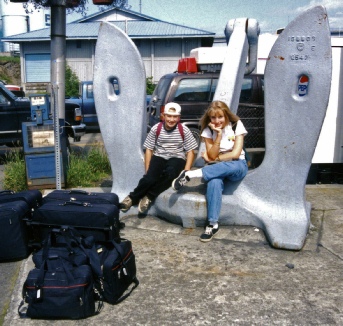 Our Trip on the Ferry Tustumena:
Top Left: Our luggage at the ferry dock in Kodiak. Top Right: Debbie reads C. S. Lewis in our cabin. Right: Nate, Debbie, and Kirsti at our cabin window.
Our Visit to Ouzinkie:
Below Left: Nate and Kirsti in Ouzinkie in front of Baker Cottage, once a Baptist children's home, and now Grandma and Grandpa's house! Below Center: Grandma Joyce in her kitchen. Below Right: Grandpa Norman in his work clothes, ready to get the mail from the plane.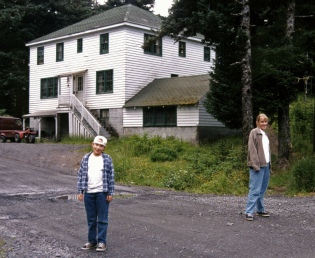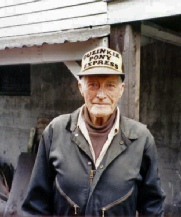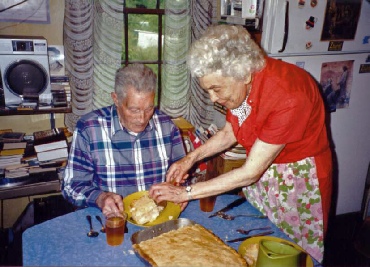 A Few 1996 Scenes of Ouzinkie
Top: I got to take part in an Orthodox "Blessing of the Fleet."
Above Left: Kirsti and her Grandma and Grandpa join the Fourth of July parade in Ouzinkie, with Nate in the trailer. Behind the flag is my old school!
Above Right: Nate sits in the kindergarten room where I attended.
Left: Grandma Joyce serves Grandpa Norman a big slice of salmon perok.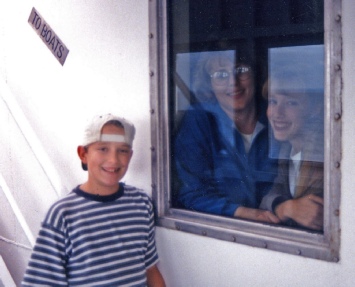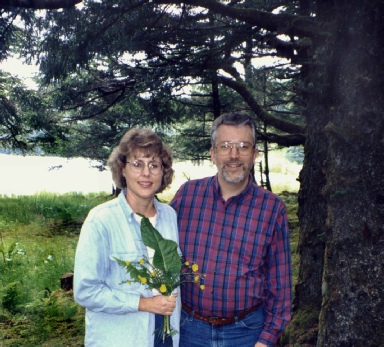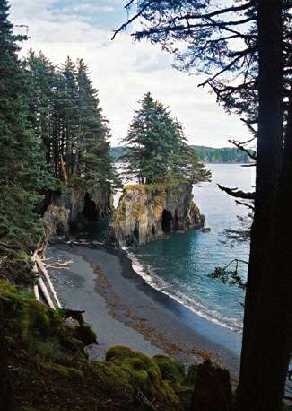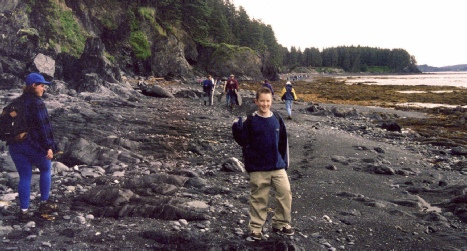 Top Left: Erin Spear was the program director for the Camp Woody, and did a really great job of keeping the kids from getting bored! Here she's heading to Woody on the camp skiff.
Top Right: Erin (left) hikes toward the Natural Arch (Bridge) with Nate. Likely I hollered at Nate to turn around and smile; Dads with cameras do that!
Bottom Left: a lovely shot of the Natural Arch at high tide, too high to enjoy that beach very much. But there's a fine trail that runs above it on the cliff, and I got this shot from there.
Bottom Right: the 1998 Junior High campers (at low tide) are listening to instructions for their next activity while standing a the mouth of the Arch.
Meanwhile, I'm standing atop a slippery rock trying to get the above right photo. By the way, the diagonal log to the left along the embankment is the only way to get to the upper trail. You have to go overland at the Arch because the tide is never low enough to hike around it. A hike to the Arch usually meant hiking overland beyond it to get to "Boy Scout Beach," a sheltered flat beach that has road access (for the 4-Wheeler to bring lunch!)
Top: A girls' cabin and their counselor pose after finishing the dishes.
Bottom: Nate's cabin's turn to do dishes. Nate is on the far right.
Incidentally, since the adoption of a high powered upright dishwasher (machine) it's been a breeze to do the dishes. It's part of camp culture that everyone takes turns, usually twice per camp.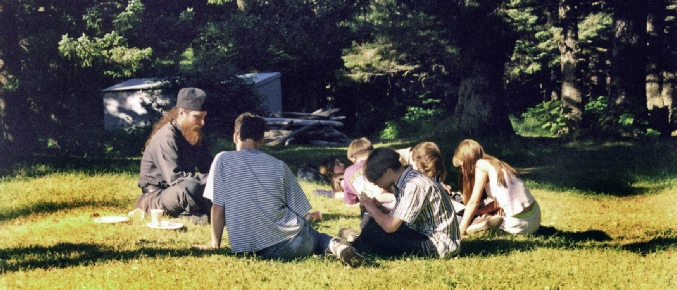 Father Andrew of the Order of Saint Herman of Alaska served with us that week. He served as an ordinary counselor, and I immediately was drawn to him as a humble and wise man.
Above: Father Andrew leads a Bible study.
Below: Father Andrew (left) and Mike Mooney stand behind a fine campfire.
Right: I sat with Father Andrew and sang songs out of his amazing notebook of Country Gospel songs. He has a tremendous heart for Christ and His Church.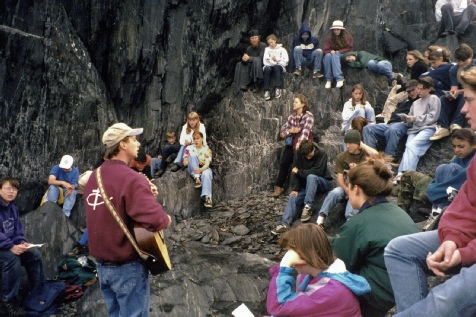 The Music and the Word. Top: In this photo from the Camp Woody collection, Mike Mooney and I lead worship in the chapel. "I Want to See Jesus Lifted High" was our official theme song, and one song said, "Great and marvelous are your deeds oh Lord God Almighty, just and true are your ways oh King of the Ages…"
The next two photos show Mike and me singing at a little hollowed out place in the cliffs of Garraboon Point, a favorite chapel spot on hikes to the Arch. I think the campers really enjoyed singing and hearing more about God in such a beautiful and unusual spot!
Bottom Photo: Mike Mooney on his last day before leaving for California, picking a tune and thinking. Mike Mooney can write the most beautiful and meaningful praise songs, and he has a heart for those in need like no one else I know.
Right: Ty and Questa Harper and young Caedmon in the kitchen of Cabin One at Camp Woody, 1998.
They have often been camp managers from the 90's up to the present day, as well as doing anything else possible to make sure that Camp Woody thrives and survives. Meanwhile, they keep up their careers as professor at the Kodiak Community College (Questa), specialized nurse at the hospital (Ty), and being parents to a growing family! It's people like them who have kept the Woody spirit alive, and kept the place true to its original mission.
About the above photos:
After my stint as camp chaplain, I got a chance to address the next group at camp. I was asked to give a little of Woody Island history. Unfortunately for me, beside me were Yule Chaffin, the Alaskan author who specialized in Woody and Kodiak history, and my Mom, Joyce Smith, who helped to found Camp Woody back in 1956. The lower picture shows me with an expression that seems to say, "Oh, yes, you're right, Mom!" But it was a lot of fun. When I see Yule and Joyce sitting together, I realize how much we lost when they passed on.
Above: The plaque for the Rev. Norman Smith memorial bench, dedicated 7/31/05
A Special 2005 Return Visit
In late July, 2005, I flew to Kodiak and joined my brother Kelly, working in Kodiak at the time, to go to Camp Woody for the dedication of a bench in our Dad's memory. We helped to bring Mom Joyce from Ouzinkie, then nearing her eighty-ninth birthday, for the occasion. On July 31, we took part in the ceremonies to dedicate the bench. There were many guests from Kodiak, and the camp directors at the time, Ron and Mabel Quilliam, were gracious hosts. We all started with a worship celebration in the chapel, now in the old Boys' Dorm due to the increasing sizes of the camps. Evan John Jones, Kelly Foreman (a nice woman working at the Mission) my brother Kelly, and I provided some music, and there were remarks by various folks.
Then we all walked down past the old chapel to the shoreline of Mirror Lagoon, to a scenic spot beneath the trees where the bench was placed. Our Mom, Rev. Joyce Smith of Ouzinkie Chapel, gave an invocation and some remarks, the participants hanging on every word. Photos were snapped, and everyone walked back past the old chapel to the dining hall with its gorgeous nearly-completed extension. There was cake, more photos, and a lot of celebration. All to honor the life of Rev. Norman L. Smith, who as the plaque said, ran the Evangel, helped to found Camp Woody, and was "Missionary to Ouzinkie for life," working there from 1958 until his death in 1996. It was a wonderful celebration.
After the celebration, and the following day, Kelly and I had a chance to goof off on the buoy swing (its last summer in operation) and Mom got to go down to her favorite devotion spot at the tip of Inspiration Point. The camp staff made sure we were well fed and had comfortable places to sleep, and it was very humbling to see our family honored in this way. The day after the dedication, my Debbie and son Nathan joined us. They flew in as soon as Nate finished his classes. We (Debbie, Tim, and Nate) helped Kelly to take Mom back home to Ouzinkie, visited there for a few days, and then came back to Woody on the last day of the following camp. We visited with Kodiak friends and friends from our home church in California who were on staff that year. It was a great visit, and an encouraging glimpse at the continuing mission of Camp Woody. The following year, both Nate and I would return to camp as staff, and at the end of the season I was the chair of the fiftieth anniversary of Camp Woody. So our adventures in 2006 are the subjects of the next article. The links at the bottom of this article will take you there.
A Photo Gallery of Our 2005 Visit: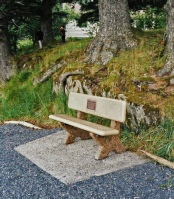 Singing in the camp chapel with my brother Kelly, Evan John Jones, Kelly Foreman, and me.
The bench near the shoreline of Mirror Lagoon, Rev. Joyce Smith in prayer at the dedication. Behind me were standing dozens of appreciative guests.
Top: Guests make their way to the dining hall after the dedication. Note the new addition (blue roof).
Left: Kelly, Joyce, and Tim Smith at the memorial bench, 7/31/05.
Bottom: Kelly, Joyce, and Tim in the camp kitchen with a lovely cake that reads: "Camp Woody remembers the loving service of Norman Smith."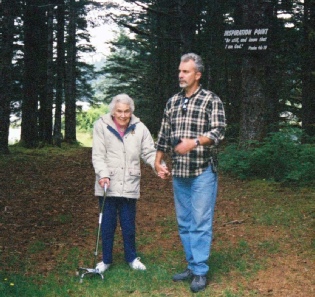 Left: Mom at her favorite devotional spot during all those years of camp's "Alone With God," the very tip of Inspiration Point, surrounded on three sides by Tanignak Lake.
Right: Mom and Kelly emerging from the trail down to the lake and Inspiration Point, beneath its new sign. The original sign had been made from a leftover door back in the late 1950's!
The Smith Brothers at play: L-R: Kelly, Tim, Kelly. That thing was awesome! Side note: Most of the 2005 photos are very grainy due to a failure of digital transfer at WalMart. I made them a little blurry to take away most of the"speckles."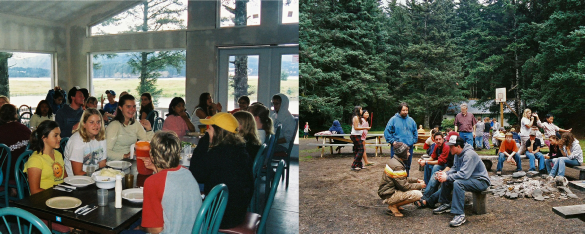 Epilogue:
My wife Debbie and son Nathan arrived as soon as he'd finished his classes, and we spent some time in Ouzinkie and Kodiak. Then we all went to Camp Woody at the end of the last camp of 2005, and got to see it in all its camper-filled excitement. The following year, Nathan and I served at Camp Woody, making Nate the third generation of Smiths to serve there. And in 2007, Nate, Debbie, and I all served at camp. It is always a wonderful experience!
Top Left: The new, mostly completed dining hall extension looked glorious, with its picture windows looking out at the lagoon and across the channel to Kodiak. It now has a large deck outside as well.
Top Right: Campers await their transportation home, and say their goodbyes. It felt a little strange to be surrounded by campers and not know anyone! But some of the staff were friends of ours or folks from Nate's church group, so we said hi to them.
Center: Nate and Debbie at the Chaffin log cabin, built in the 1960's, with its master bedroom extension built by Larry Le Doux in 1976. The view from the cabin in all directions is amazing, even on a gray day.
Bottom: This is how you travel! Debbie and I leave Camp Woody on the camp skiff at the end of our visit in 2005.
The next two articles celebrate the 50th Anniversary of Camp Woody.
Follow the Links Below to Those Articles or to Return to the Homepage
The Dedication of the Memorial Bench, 7/31/05
The Smith Family Relaxing and Reminiscing at Camp
The Disappearance of the Navy Wireless Building, Built in 1915: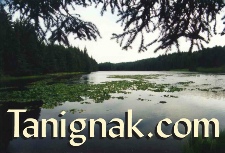 Information from this site can be used for non-commercial purposes with attribution. The text of all the articles on Tanignak.com and TruthTexts.com are copyright 2020 by Timothy L. Smith (see the "About Tanignak.com" link). The photographs are copyright the estate of Rev. Norman L. Smith, or are copyright Timothy L. Smith unless otherwise attributed. Many thanks to the people who have shared their stories and those who have allowed me to use their photographs on Tanignak.com!

The Only Family Portrait in Ouzinkie: L to R – Joyce, Norman, Nate, Tim, Kirsti, Debbie.
Just a few months after our visit with the Grandparents in Ouzinkie, my Dad passed away. But in the summer of 1996, we had a great opportunity to show Kirsti and Nathan my childhood home and hometown. We also got to help Mom and Dad sort through and throw out a lot of accumulated stuff, including cleaning out two freezers. I think we counted seventeen pickup truck loads that we took to the dump, thanks to Rosie and her Chevy. It was more work than we had bargained for, but since Mom ended up alone soon after, it was good that we could clear out and reorganize their lives a bit.
Woody Island, 1996
Above Left: Kirsti at Sawmill Pond.
Above Right: Nate on the meadow beside Mirror Lagoon.
Center: Sarah Adams goes to explore the school at the old FAA station, with an apartment building and the fire station beyond.
Right: Debbie and Tim Smith by the tree where we got married in 1977.
Another Chance to Serve: As a Volunteer Chaplain in 1998
I was camp pastor for one week in the summer of 1998. I loved it, and it was an honor to stand in the role my Dad had occupied for so many years. Mike Mooney, my co-musician in the "Stone Table String Band," was a counselor, and served as a pastor for one camp as well. It was also a remarkable experience for a couple of other reasons. My son Nathan got to be a camper that summer, and loved the island as much as I did. He returned as a counselor to Camp Woody in 2006, making him the third generation of the Smith family to be on the camp staff!
Another reason I loved working at Camp Woody in 1998 was that I struck up a lasting friendship with Father Andrew, a monk of the Order of Saint Herman. He was over at camp that summer as a counselor. I have since visited him many times at the monastery on Spruce Island (the subject of future web articles). I always enjoy his fervor for the Lord and his love of books, music and especially people. He and I had many long talks as we hiked from place to place, and he gave me a book of Orthodox prayers which are amazing.
That summer was also one of my last opportunities to see Yule Chaffin and sing for her in her cabin. We had loved doing that so much as a camp staff in the 70's, and it was fun to invade her cabin again in 1998. Debbie, Kirstin, Nate and I, my Mom Joyce Smith, Ty and Questa Harper and Yule enjoyed a memorable meal and impromptu sing-along in her beautiful cabin. Yule also got to come and hear me speak at one of the chapel services, which was a great honor. I hope to someday write about her great influence on my life, and share some of the letters she sent me over the years. Besides being a well-known author, she was always taking time to write to friends young and old in her distinctive left-handed cursive. Being with her in the summer of 1998 was almost as special as getting to serve at Camp Woody.
There were some special adventures that summer, good and bad. On our first day on Woody Island, Nate and I set out to hike partway around it. Around Sawmill Beach, I twisted my knee trying to step over a log, and had to hobble back with a walking stick. Luckily for Nate, I knew where to find the old road, so it was only a couple of miles back to camp. But I hobbled and limped along whenever we went hiking for that whole week, and going down the steps to the dining hall from the fire pit area was murder!
Anther interesting adventure was when Ty Harper, the camp manager, noticed that the camp skiff, the Pilgrim, was missing. Ty is very responsible and conscientious around equipment, and kept wondering if somehow he had made a mistake in tying the skiff up. I told him that was unlikely. Finally, after he and I went walking up and down the beach late one evening, he decided to ask one of his friends, a pilot with a local air carrier, to look around next time he flew out. The pilot found the skiff pulled up on a beach on the back side of Near Island, where there's a road to town. Someone obviously got stranded on Woody Island, and rather than ask Ty for help, just stole the skiff. Luckily the sturdy heavy aluminum craft suffered no damage! I think Ty was relieved that he hadn't messed up, even as all of us were peeved that someone stole the skiff. For Alaskans, that's tantamount to a cowboy getting his horse stolen!
But both Nate and I remember a time between camps when the Harpers and their friends the Youngs put together a pure Alaskan feast for the staff. There was crab and halibut and salmon and other spectacular Alaskan dishes, but Nate and I remember the mountain goat stew. It was hearty but not overpowering, wild but not "game-y," and was seasoned to perfection. I'd have asked for a recipe, but where can I go pick up a few pounds of mountain goat meat? In the end, Nate appreciated being at camp after a tough year at school with a certifiably mean teacher. I was overjoyed to be back at beautiful Camp Woody. I was also amazed to be following so literally in my Father's footsteps, and honored to be able to serve again at that amazing, still thriving camp! And of course it was an added blessing to be able to play and sing for those campers with one of my all-time favorite picking buddies, Mike Mooney. Most wonderful of all was that I had put a bug in his ear to volunteer at Camp Woody while we were on the music team with Southern California Walk to Emmaus, and he had actually accepted the challenge! I can't speak for him, but he came home very blessed. Don't we all?
A 1998 Photo Album
Inset Photo (Top Left): I developed and printed this photo of Questa during Middler Camp in 1974.
The campers got to make a craft with their photos to take home. Questa and so many others came over as campers and came back as staff.