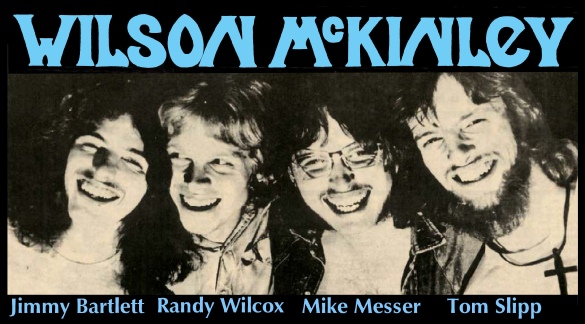 The Wilson McKinley Info Page
Hosted by Timothy Smith, Tanignak Productions, and Tanignak.com
Original Posting 1999 — Revised 2020
For a Short Sound Sample, Click on the Photo Below:
For Links to the Wilson McKinley Story, Available Albums,
and Sound Samples (A 20-song downloadable album!)
Click On A Logo Below: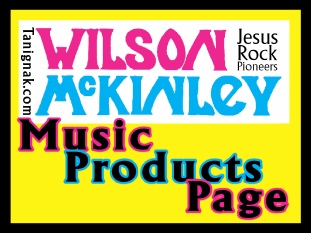 Click On A Logo Above
For Links to the Wilson McKinley Story, Available Albums,
and Sound Samples (A 20-song downloadable album!)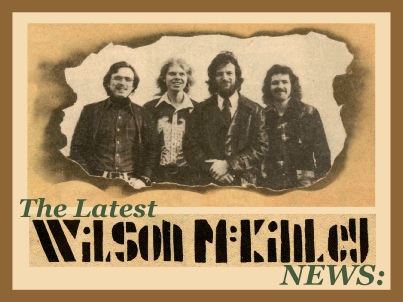 A "LIVE" Wilson McKinley CD is due out soon in honor of the fiftieth anniversary of the conversion of the Wilson McKinley, a major milestone in the history of Jesus Rock!
In June of 1970, three members of the Wilson McKinley, a popular Pacific Northwest "hippie rocker" band, became followers of Christ. They were joined by a believing fourth member and shortly thereafter recorded the first Christian Rock album by an existing group. Those who were there over the next ten years of ministry all report that the Wilson McKinley was always at their best "live" in front of an audience to relate to.
Therefore, an album of all-stereo live recordings from 1970 to 1972 is in the works, including a 50-minute set from the "I Am" coffeehouse in downtown Spokane, WA – plus tracks from Gonzaga University, Coeur d'Alene, and the Silver Valley (Kellogg, ID). Below is a mock-up of a possible CD cover.
If possible, the CD will include a bonus disc of mono recordings from the On Stage LP to their last recorded concert in May of 1979. It includes many fantastic performances, but generally poor recording quality, engineered for the best possible sound, and including many songs available nowhere else! "WATCH THIS SPACE" for more information.
A possible design for the cover:
Rolled Away the Stone is due out by early summer, 2020
Below Are The Currently Available Albums at Tanignak.com:
Follow the "Music Products" Link — Lower Pricing On All CD's
Message Brought to Us (1999) was the first CD release from original master tapes, with the band's blessing. Includes personal favorites of the band, and six (of eight) tracks from the ultra-rare Country in the Sky cassette, but dubbed from the original four-channel master reels! There's also one previously unreleased practice song. A great value!
Now I'm a Jesus Freak (2009) is a double-CD set with all of Spirit of Elijah and Heaven's Gonna Be a Blast, the remaining two Country in the Sky tracks, and one track from Yesterday / Forever. And that's only disc one! Disc two is chock full of unreleased tracks: live songs from the "I Am," multiple unreleased practice songs from 1970 and 1973, and three new recordings: two by Randy Wilcox and one by Mike Messer! An instant collection!
Your Eyes are Not Deceiving You! These are new, shrink-wrapped, digitally mastered copies of Spirit of Elijah and Heaven's Gonna Be a Blast, from Obscure Oxide and Lion Productions. Original artwork is extremely close to the originals, but inside are versions that have never been released before. The records were pressed from my digital transfers of the original master tapes, with no editing or processing on any track. I provided the scans of Mike Messer's mint LP's, and I even wrote the liner notes (Christian witness included!) – but the band actually received royalties for them, and we spent no money out of pocket for a project we could never have afforded to take on ourselves.
I have a limited supply of these LP's, and I am selling them only as a set of two. Should you wish a single title, please contact Jade Hubertz of Obscure Oxide at jhubertz@netdirect.net and arrange to purchase a single title.
Click the button at the top for the
"Music Products Page"
to order any title.
(PayPal Enabled)

To Find Out More About Tanignak.com, Click HERE
To Visit My "About Me" Page, Click HERE
To Return to Tanignak "Home," Click the Logo Below:
The audio songs and samples on Tanignak.com are copyright their respective owners and are used with permission. All Wilson McKinley tracks are administered by Tanignak Productions unless otherwise noted. Tanignak Productions uses proceeds from CD sales for royalties or for production of future albums, according to the band's direction.
Information from this site can be used for non-commercial purposes with attribution. The text of all the articles on Tanignak.com and TruthTexts.com are copyright 2019 by Timothy L. Smith (see the "About Tanignak.com" link). The photographs are copyright the estate of Rev. Norman L. Smith, or are copyright Timothy L. Smith unless otherwise attributed. Many thanks to the people who have shared their stories and those who have allowed me to use their photographs on Tanignak.com!