Evangel Island Journey 6B (the second of three articles based on Larsen Bay)
A Larsen Bay Family and Holiday Photo Gallery from the 1950's
By Timothy Smith (restored/revised 2020)
Fog hovers behind the Alaska Packers Association cannery in Larsen Bay, Alaska on a winter day with very high tide in 1953.
NOTE: This is a photo album, with the captions for the photos providing the main text. The photos cover the family of Rev. Norman and Joyce Smith during the time we lived in Larsen Bay (summer of 1952 to the fall of 1957), and photos of our summer visits 1958 to 1963. This gallery has photos of our friends and neighbors in the many activities that took place during the school years when we were in town.
Memorable Days and Holidays in the Village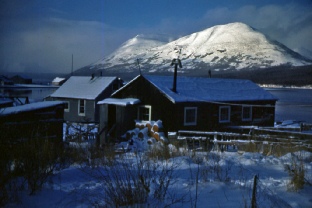 Winter in Larsen Bay: On the left are two views from almost opposite directions of the school (left) and the chapel (center). Since later the chapel had a bell tower added facing the bay, this is probably from the winter of 1952-53. Above: the Evangel winters at a secluded corner of the dock with a pile driver in the background circa 1956.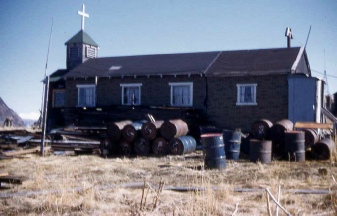 Above: the Alaska Standard oil tanker from Standard Oil, serving remote villages and canneries, leaves Larsen Bay in this very faded color photo. Right: the chapel, now with its new bell tower, sports a large collection of 55-gallon oil drums after the tanker's visit. (Both photos mid-1950's)
Winter Scenes in the Village
A portrait of the whole student body, Larsen Bay Grade School, fall of 1952. My brother Noel is the tallest boy in the back, my sister Jerilynn has the green sweater, and my sister Robin has the red sweater. What a shocking contrast from their previous school in Berkeley, California! But a school this small afforded more individualized instruction, and lots of time to read (to put a good spin on it). I'm sure the challenges were also massive for the schoolteachers, far from the resources of the city!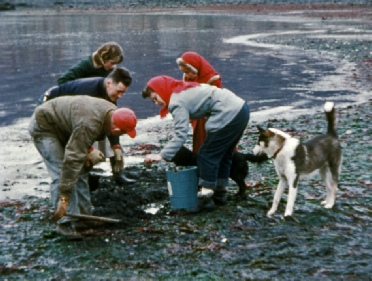 Can't do this in the city – unique village experiences included low tide adventures!
Right: An extreme low tide exposed the base of the "dolphin" out in the bay. A "dolphin" is the local slang term for a cluster of pilings used to mark shallow water and aid in harbor navigation. My brother Noel wades out for a rare photo opportunity.
Elsewhere on the beach, folks make use of the low tide as an opportunity to do some clam digging, while the local dogs look on. My Dad is in profile on the left, with my sister Jerilynn behind him in this frame of 16mm movie film.
I remember Mom's clam chowder in Larsen Bay fondly, and my favorite part was the plump round stomachs filled with green algae (all fully cooked at this stage). Imagine my surprise when I ate clam chowder Stateside later in life, and discovered that they wouldn't be caught dead leaving the stomachs in the soup! (Mid-50's photos)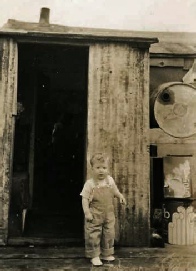 Author's Note About These Photos:
They say a person's most formative years are the first five. I was born in 1953, while the Smith family lived in Larsen Bay. I have many vivid memories of living there and of visiting every summer until 1964. But I don't know the names of many of the older kids and adults in the village, or the precise years when some of these photos were taken. I'm happy to add names and dates as I receive them from those who were older than me and were also there.
In spite of these obvious weaknesses in my narrative, the photos provide a unique glimpse into Alaskan village life (especially Kodiak Island) in the 1950's.
Lively Times in Our Little Shack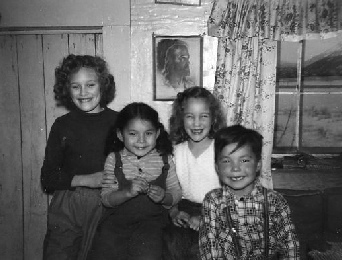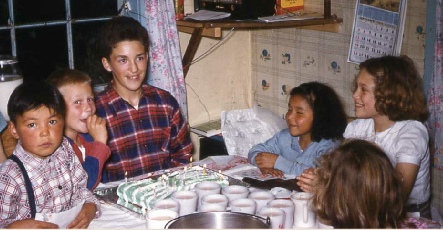 Top Left: My sisters Jerilynn and Robin with two of the McCormick kids in our shack, 1953 or 54). Top Right photo: Alice Aga (Edith Swan's mom) was my adopted grandma while I lived in the village. Middle photo: I seem to be the center of attention shortly after bath (in the white basin) in this 1953 photo. I'm on my Mom's lap, big sister Jerilynn is next to her, and on the right is Margaret Carlson. Lower (color) photo: My brother Noel at his birthday party, September (1956?). Cake and what looks to be hot chocolate are on the little kitchen table in the shack. My sister Jerilynn is to the far right, and the foreground head is probably my sister Robin, with some of the neighbor kids.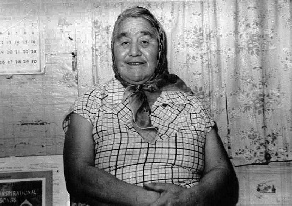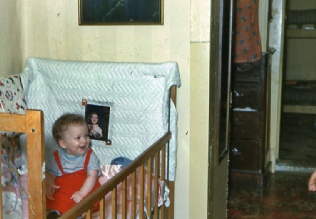 Right: Another after bath photo in the little shack, showing the front door and the table with "Blazo box" shelves described in the previous article. Just out of sight to the right is the kitchen table shown in the above picture. Adults would have a hard time turning around in that room!
Below Left: I am in my little crib, laughing at something Mom (just out of camera range) is doing. This was probably also the room where my parents slept, and in the background are the bunk beds of my older sisters' room . My older brother Noel had the small room at the other end of the shack. The little room with the dresser probably also held the "honey bucket" indoor latrine.
Below Right: Outside the shack with Stanley McCormick and his older sisters, probably 1956.
My best guess of the layout of our shack, based on photos and memory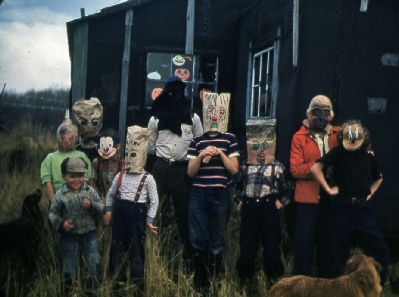 Top Left: Halloween, probably in 1954. Notice only a few "store-bought" masks; all the rest were made as a craft in one of the after-school clubs Mom and Dad ran for the village kids. They are standing by the shack, right beside Noel's bedroom window with the kitchen window behind them.
Bottom Left: Mom and the village kids scraped together a snowman after the first fall snow. I'm standing between my two childhood friends, Stanley McCormick and Roy Jones (next to the snowman). Roy's sister on the far right is Patty Ann Jones, who now goes by Patricia, and last I knew, worked at the Baranoff Museum in Kodiak. I ran into her there when I presented a disc of these photos to the museum. I told her I'd lived in Larsen Bay from 1953 to 1957, she told me that she grew up there, and I stated, "Then I must know you!" We figured out our connection then. Incidentally, the National Geographic program on Kodiak Bears featured a video of a bear jumping into the back of a pickup truck . That was Roy's truck! My friend Stanley passed away in the 1990's in a fishing accident.
Top Right: In Larsen Bay, our family was first introduced to the beautiful Russian Orthodox Christmas custom of "starring." A brightly-decorated star with an Icon (holy picture) on a center shaft is twirled facing a holy picture in the corner of the front room of a village home while Nativity hymns in Russian and English are sung. The holder of the star is unidentified, but the adults on either side are Robert and Fedocia Agik. Robert was the "Blessed Reader" of the village for the Orthodox Church, and was able to conduct services (but not liturgical sacraments such as weddings, funerals, or baptisms) based on his training, in the absence of a local priest.
Bottom Right: Fedocia and Robert Agik came to visit us in 1960 after we had moved to Ouzinkie. They were sweet, honest, kind-hearted people, and they and my parents shared a warm friendship. They stopped in on their way to Larsen Bay by fishing boat. There was no Orthodox Church in Larsen Bay when we lived there, but the village now features a fine new chapel on the eastern edge of the old village.
Left: Christmas 1954. My sister Robin and I pose for a photo in front of our little Christmas tree, a cute spruce brought by a local fishing boat from the "North End" of Kodiak Island, where spruce forests are abundant. Larsen Bay still sports very few spruce trees to this day.
Below: My sisters Jerilynn and Robin pose in their Christmas outfits. It's the same year, because my sister is still missing the same teeth! But the new calendar tells us that this may be after Christmas, when the matching outfits finally arrived! We kept decorations up until almost February, because Russian Orthodox Christmas is celebrated on a different calendar, and falls in the first week of January. There's another peek into the nursery corner through the open doorway.
Our last Christmas in Larsen Bay: 1956. This blurry photo was a tiny "contact print" sent out with the family's newsletter in early 1957. By the fall of that year, we were staying in Washington State for the winter before moving to Ouzinkie. Back row: Noel, a high school student now, nearly as tall as Dad Norman, with Jerilynn between them, in her last year in a village school. Front row: Mom Joyce seated at her new Wurlitzer Electric Piano, Robin, in fourth grade, and Timmy (the author of all this), 4 years old.
Valentine's Day in Larsen Bay: The village kids and their boxes of candy pose in front of the Carlson's home (who lived next-door) in the early 1950's. Other than "never take a photo if your subject is in direct sun," it's a cute shot.
My parents tried their best to bring fun and exciting things for kids to do in a remote place with very few winter activities available. Many of these photos come from the after-school clubs they hosted.
Below: Easter in Larsen Bay, and the beginnings of a family tradition - two photos of "kulich," Russian Easter Bread. From left: Robin, Jerilynn, and Noel pose with two kulich loaves, baked in coffee cans so that the tops resemble the domes of the Orthodox churches. They were a gift from one of our neighbor families. The decorated Easter eggs around the base are a nice addition.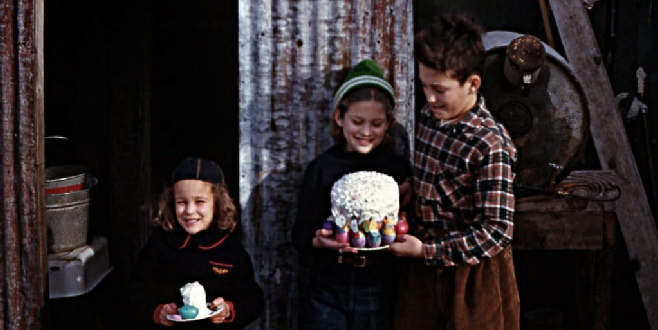 Larsen Bay's traditional loves featured dark raisins, colored candied citron, vanilla, walnuts, and cardamom, and had lovely white frosting, usually with sprinkles. Mom figured out a recipe based on local bakers' productions, and it became the most-published kulich recipe around Kodiak Island for years.
When we moved to Ouzinkie, we found that most of the local kulich recipes there featured golden raisins and lemon flavoring. Both are delicious, especially sliced, buttered, and toasted on a cookie sheet in an oil stove until the icing melts!
Mom's Larsen Bay kulich recipe became the main course, both in loaf and "hot cross bun" form (along with hard-boiled eggs and hot cocoa) for our annual Easter Breakfast, in which most of the village dropped by for a feast after our Sunrise Service at a nearby beach.
Joyce Smith's Kulich recipe card in her own handwriting
Feel free to copy and share this recipe – it is authentic Kodiak Island village cuisine. Please attribute it to "Joyce Smith, Ouzinkie, Alaska." My wife Debbie, a fabulous baker, has a clearer version of this same recipe, which I have posted below my Mom's recipe card. The photo on the right is a batch of kulich on our table in Ouzinkie in 1968, ready for our community Easter Breakfast. I placed them with the painting and the lilies at the time for an Easter "still life." This is what the Larsen Bay recipe looks like when finished.
By Joyce Smith, Ouzinkie, Alaska, based on recipes of Larsen Bay, Alaska in the 1950's
Mom Joyce's Kulich
(Russian Easter Bread)
In a large bowl dissolve:
1 can of evaporated milk (unsweetened) plus enough water to make 4 cups.
Dissolve:
3 packages of dry yeast in ½ C. warm water.
Add to first mixture:
4 beaten eggs and 1 ½ tablespoons of vanilla extract. Add the yeast mixture to the milk mixture also.
Sift together:
8 C. of flour with 1 ½ T. salt, 1 teaspoon cardamom and ½ t. mace. Stir into the milk mixture. While adding the flour, also gradually add ½ lb. fruitcake fruit, ¼ C. candied orange peel, 1 C. walnuts, chopped, and ¾ C. dark raisins (add last). Add 2 to 4 more cups of flour until the dough is a stiff consistency. Knead for 5 to 10 minutes. Place the dough in a greased bowl, turn so greased side is up. Cover.
Let Rise:
- in a warm place until doubled. Divide into greased pans and rise until doubled again.
Bake:
- at 325 degrees for 45 – 60 minutes, until browned. Ice with powdered sugar frosting and decorate with sprinkles. This recipe makes approximately 5 small coffee cans and 2 loaf pans of bread.
Note: Some Russian Alaska recipes use lemon extract instead of vanilla extract, and golden raisins instead of dark ones for a lighter dough.
Kulich Icing: Combine 3 C. powdered sugar, 1 T. softened butter and 3 ½ T. milk until smooth. This frosts about 2 kulichs.
(Typed by Debbie Smith from Mom's original recipe, with tips for a successful batch)
The EVANGEL Heads Out in the Spring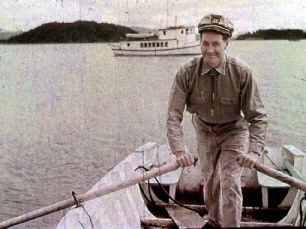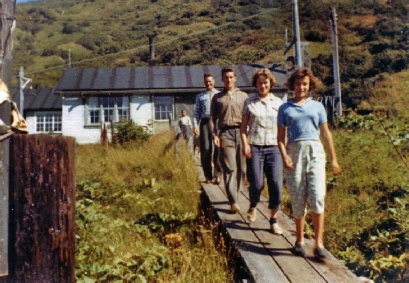 In the spring (in early May when school let out, if the weather cooperated) the crew of the Evangel got the boat ready for our summer voyages. In a week or so, the hull was painted with "copper bottom paint," the engine had been gone over and tuned up, supplies and equipment were stashed aboard, and off we went.
Top Left: Dad adjusts the prop on the Evangel while it's beached in Larsen Bay.
Middle: A restored, extremely faded color publicity shot taken by some Baptist dignitary. Dad (the Rev. Norman L. Smith) wore a cap and his cowboy-style lanyard tie for the photo shoot, but he lost the cap once we actually got underway!
Bottom: the crew of the Evangel walks toward the dock after visiting a homestead or bear camp in this photo taken by Mom. I was most likely beside her. Front to back: Robin, Jerilynn, Noel, and Dad in this photo from the late 1950's.
Time to Move from Larsen Bay
At the end of the summer season, in mid-August, 1957, our family returned to Larsen Bay, our first home base, to pack and prepare to fly down to Washington State for our first visit with relatives in five years. Our next Alaskan home would be the village of Ouzinkie (see the index of Ouzinkie articles here at this site)
In this publicity shot taken in the summer of 1957, all of us gather in Larsen Bay, on the bluff above the well and the beach, for a publicity shot. Back row: Jerilynn, Noel, Norman and Joyce. Front row: Robin, keeping a steady hand on Timmy. I look like I want to run away, but manage a smile. We will get to return to Larsen Bay on the Evangel for the next seven summers, and part of me will always think of it as home!
The next article is
"1964: Evangel's Last Voyage to Larsen Bay, and 1998: A Return"
To go back to the Evangel Index, please click on the logo below: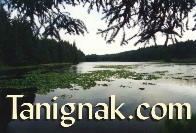 To Get Back "Home"
Please Click on the Site Logo Below:
Information from this site can be used for non-commercial purposes with attribution. The text of all the articles on Tanignak.com and TruthTexts.com are copyright 2020 by Timothy L. Smith (see the "About Tanignak.com" link). The photographs are copyright the estate of Rev. Norman L. Smith, or are copyright Timothy L. Smith unless otherwise attributed. Many thanks to the people who have shared their stories and those who have allowed me to use their photographs on Tanignak.com!