Thoughts on the Continuing Revival, by Timothy Smith (2001, Revised 2020)
Complete Song by Tim and Kelly: "One Thing Right" – by Lowell Lundstrom. Recorded as a demo with modest recording equipment in the chapel at Camp Woody in 1975, this song describes the dramatic change when someone begins to follow Jesus.
This Updated Article Features a Separate Posting of Stories and Sound Samples, of More Songs We Love, and Musicians Who Influenced Us, Whose Story Needs to Be Told.
Please Check Out the "Always Jesus People SOUNDTRACK PAGE" Below:
About the montage: The author in 1975 and 2007 (both at Camp Woody, Alaska) Background: a shirt that Debbie decorated in 1975, with Tim's original 1971"guitar flower". Look for it in many of the photos!
Introduction:
I was right in the thick of the Jesus People revival in Kodiak, Alaska in the early 1970's. I was a worship leader and Bible teacher at Camp Woody and at the "Open Door" coffee house in Kodiak. It has been five decades since those days. This article takes another look back, to weigh the legacy of that great revival. I write this as a "witness to these things," and to seek a great revival and renewal in these days, in the form and scope of God's choosing. My contribution then was largely musical, so I've included lots of sound samples. Be sure to follow the links in the article and visit the soundtrack page. The songs are all part of the story, but they vary in quality from "kid in the audience with a cassette deck" to professional recordings.
My contribution now is largely through writing. My new website, truthtexts.com (hosted through this site) has articles on belief and behavior to help and encourage new believers and seasoned followers of Christ, and features an entire study on the Gospel of Luke. Follow the links from the tanignak.com "home" page or the links below for more. The original 2001 article, "Always Jesus' People" follows on this page.
Always Jesus' People!
It was a time of great disillusionment for many of us. A series of our adored, youthful national leaders had been murdered, scenes of their demise seared into our memories by the full-color coverage of the national press. Nearly everyone knew someone who had died or come home wounded, psychologically or physically, from an unpopular and demoralizing war. We were surrounded by (or participants in) the drug scene and the free love scene, to the pounding beat of rebellious rock and roll. The turn of the decade in 1970 saw many of us on the edge of either a new cause to follow or a quick slide into total self-destruction.
No one could escape the widespread sense that our culture and our country was in big trouble, and even those who lived in isolated corners of the country sensed the need for something new, something dramatic. I couldn't have been much more isolated: I was a student at a boarding high school, living in Kodiak, Alaska, a town that had one weak TV station, a place that had frequently delayed mail runs on account of bad weather. But the local Naval Air Station ("the base") and the constant influx of fishermen and workers from the "Lower 48" (or "Outside," the more common local term) brought the culture and its woes to us. The smell of "weed" was common wherever young people gathered on Kodiak streets, and the town's own homegrown hard-drinking ways brought its own sense of despair. The town had more bars than churches in those days, and when the fishing fleet was in port, drunks littered the docks and sidewalks.
Those of us raised in "the Church," (the established community of believers, replete with its own establishment culture) as I was, felt that it was out of touch. Not much that went on there specifically addressed what we were going through. Friends were facing the crippling consequences of promiscuity and the "high life". We faced the danger of being drafted and sent to die in some jungle. All that many in the Church seemed capable of in response was to shrilly warn us of the dangers of playing cards, dancing and listening to music with a "jungle beat". These sermons were delivered to a soundtrack of simple little ditties played on accordions by people with piled up hair and polyester suits. At least that's the way it seemed to a lot of us, and for those raised outside "the Church" it must have seemed even worse. (Continued below…)
Sound sample: "He's Everything to Me" A pre-Jesus People praise chorus sung by Junior High camp girls with Joyce Smith playing the pump organ seen in the above photo
Jesus People? In Kodiak?
We began to get word of a new leader, someone who, like the others we had lost, had been executed by his enemies. But this leader was different, we were told; this one was alive again, was soon to return. At first the revolution started slowly. For me, it was through a Bible study that grew out of the summer camp, and sometime in the spring of 1970 started to catch fire. Instead of a handful of kids who had been to Camp Woody, we suddenly had over eighty, including quite a few young Navy men. We moved across town to the basement of a large church, and still kept growing. As high school students, we began to shrug off lunch in favor of going to a church across the street to pray. We brought our Bibles to school, spoke openly of our faith, and took on a kind of purposeful exuberance. The world was in trouble, there was an answer, that answer was a person, and we had met Him.
There was soon a name for what we were: some people in the media were calling this a national movement, and called us "Jesus People." And our northern version had grown up organically, a genuine revival among young people. We were as authentic and local as could be. Nevertheless, we still felt outside the culture. In the eyes of many of our peers, we had simply sold out to the polyester and accordion people. We may have been fervent, but we were far from cool. We needed a way to relate to these people at their level, from within the youth culture. A way was definitely provided, from a most unlikely source. An old Russian immigrant, a former island missionary and prayer warrior named Nina Gilbreath, felt led to join us in our meetings. She sat in the back, outside the circle, and prayed for us. She never argued when we went overboard, she never pointed any fingers as so many in the regular churches were doing; she simply prayed with us and for us. But somehow a copy of the "Truth Paper," from the Jesus People of Spokane, had come her way. When she ordered copies to show us, we were awestruck to realize how much of what we were experiencing was happening elsewhere. We had not been consciously imitating anyone. We came to realize that God was touching people all over the country in similar ways. (Continued below…)
The masthead and a cover illustration from the "Truth Paper," published by Voice of Elijah Ministries in Spokane, Washington.
The paper was full of examples of young people around them and around the country who had found the answers they were seeking in the person of Jesus Christ. That paper was so encouraging to us! The stories of changed lives were amazing, and so much like the transformations that we also were witnessing first hand.
We ordered bundles of the "Truth Papers," and a new ministry was born. Soon every Saturday, rain or shine, freezing or soggy, we were out in front of the bars and stores of downtown Kodiak, passing out "Truth Papers" to appreciative and non-appreciative alike. The papers would set up a conversation with the recipient, and we would eagerly share the what, why (and the Who) of what we were up to. We adopted the language of the movement, with "Praise the Lord!" and "Amen, brother!" replacing the more conventional phrases, and the One Way sign (uplifted index finger) replacing a wave of hello. Hugs replaced handshakes, and uplifted faces and hands replaced bowed heads in prayer services. But whatever street culture we were adopting or creating, it was really nothing at all to stop in a restaurant, street corner or wherever and pray for someone, or to start praising God and lifting our hands whenever someone shared an answered prayer. Because we were so outgoing in our expressions of faith, we also found fellowship in the oddest places, for frequently a cannery worker from Idaho or Kansas or California would recognize us as fellow believers and join our fellowship, sharing the songs and testimonies from their Jesus People.
Meanwhile, Nina Gilbreath did something else with her "Truth Paper:" she ordered copies of the Wilson McKinley Jesus Rock group's first LP. She gave one to me, and the LP's circulated around amongst the Jesus People. The record was raw, unpolished, and exuberant, with spontaneous outbursts of "Oh, thank you, Lord!" interspersed with the jangly rock music. The result was astonishing. It was as though we were suddenly given God's permission to sing in the loud, rhythmic, insistent language of our generation. For seemingly the first time in many generations, Christian music actually fit the times. (Continued below…)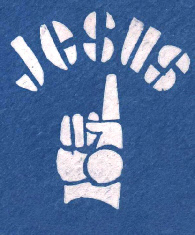 A graphic (in negative) of some of the original tan and black hand-stenciled artwork from the Wilson McKinley's first Jesus Rock album, "On Stage."
Recorded in 1970, the LP reached Kodiak in early 1971. Although rough and unpolished, the record greatly encouraged us. We begin singing as many new Jesus People songs as we could find, and sharing them in our meetings and out on the street.
A sound sample from he Wilson McKinley's first Christian Rock LP (June, 1970): "You Gotta Hear About My Friend" Click on the Wilson McKinley link at the bottom of this article to reach their web page at tanignak.com and read the story of their amazing ten-year street ministry. (Sound samples and CD's too)
The songs of other Christian Rock artists soon found their way into circulation. We started singing Larry Norman tunes like "I Wish We'd All Been Ready" and "Sweet, Sweet Song of Salvation" everywhere we went. We added music to our street meetings, and would regularly go down to the ferry dock to meet the Alaska Marine Highway ferry, the M/V Tustumena, and sing for the passengers. One of the many Navy guys who had discovered our fellowship, a talented singer and guitarist by the name of John Hicks, began writing cool songs that we could sing and not be embarrassed about. "Clap Your Hands" was an especially peppy one that we liked to do down on the ferry dock: (Text continues below the photos and sound samples)
Sound sample: "Clap Your Hands" by John Hicks, sung by John, Larry Shelton and Tim Smith, July 1971, at Camp Woody. That's me on the oil-can bass and weak third harmony.
The author (with guitar) and some of the Jesus People in a home meeting (with Oscar the dog!), and singing for the passengers on the M/V Tustumena (from the summer of 1971)
The author (left) with John Hicks; John with Larry Shelton (a volunteer from California); John playing my guitar. Notice the famous "guitar flower" seen in the opening logo!
The author passing out "Truth Papers" (see inset - that issue quoted an article about the Jesus People from an Oregon newspaper) and singing for a street meeting at the Crab Festival in downtown Kodiak in the spring of 1971.
Larry Shelton (left) and Tim Smith (on oil can bass) sing for the campers at Camp Woody, while John Hicks (in blue shirt, center right) looks on. July 1971
About the sound sample: John Hicks, Larry Shelton and Tim Smith (my first vocal lead) sing a snatch of the song (learned from the Wilson McKinley) followed by a sample of my version from the 2000 Stone Table String Band CD, "The Love and the Mercy" (available at this site)
About the sound sample: My 1975 version of the above John Hicks song, with brother Kelly on bass, and the 1976 title cut from my Spanish praise album, with John Hicks' lyrics translated by David Johnson , a missionary kid who grew up in Ecuador. The "Por Eso Es Que Canto" CD is available at this site.
For sound samples (and some complete versions) of all the rest of John's songs, use the "Always Jesus People" Soundtrack Page link near the top of this page. (With many more samples and photos!)
In the summer of 1971, as many of us as could do so attended or volunteered at Camp Woody, and the revival kicked into high gear. Several California volunteers brought songs straight from the original Calvary Chapel. But our own community of young believers kept on finding new songs of our own. John Hicks wrote a total of seven songs, all sincere and singable, which we immediately pressed into service. One of the adult prayer groups in town taught us a bunch of scripture songs, and a group of Catholic Charismatics contributed meaningful folk songs as well. In one summer Camp Woody's culture changed from silly camp songs (and beautiful folk hymns, it must be added) into a hub of Contemporary Christian music. We sang our new songs after every meal, at every worship service, and at every campfire, changing the atmosphere to one of near-constant worship and praise. No wonder so many young people were greatly moved and inspired in those days!
I noticed with some amazement that the revival we were experiencing had a positive effect on the adults. We soon saw many supportive older believers join our fellowship, and even give us guidance. My parents, Rev. Norman and Joyce Smith, longtime village missionaries, were among them. They loved the Scripture songs and expressive praise, and as leaders at Camp Woody, allowed the Spirit to move in new and exciting ways. It was totally unexpected. This was not a rebellion, but a revival, open to all.
One of the surefire characteristics of revival is the breaking down of generational barriers! As the group Love Song sang, "...Long hair, short hair, some coats and ties, people finally coming around!" Many adults in Kodiak were experiencing revival of their own as a result of the influence of the Charismatic Renewal, and when adults and children met (such as at Camp Woody) the results were electrifying. And many of us went back to our home churches (or started going to church) with a renewed appreciation and understanding of what the Spirit had been doing there all along, right under our noses! Suddenly we had so much to learn from each other! I believe our revival carried through most of the 70's as a result of this amazing fellowship of young and old that the Spirit clearly brought about. As the words of a contemporary Catholic hymn states: "We are one in the Spirit, we are one in the Lord!" (Continued below…)
March for Jesus, August, 1972
Alaska's first Jesus Rock band, the "J. C. and Company" from Abbot Loop Community Church in Anchorage, led a march for Jesus and a lakeside baptism in August, 1972. The young man being baptized by Mike Premo (the band's preacher) and Ken Covey of "The Open Door" is my brother Kelly.
Maturing: "The Open Door" Coffeehouse, and J. C. and Company Rock Band
One of the great challenges after the season at Camp Woody had always been to keep the revival fires burning in the cold and dreary Alaskan winter. Other adults, such as Ken and Diana Covey, put money and reputation on the line to rent us a place to hang out, and "The Open Door" coffee house and bookstore was born. We had a place to meet, a sense of support from the adults, and of course a steady supply of the latest in Christian music and materials, thanks to the bookstore. I doubt that many of us realize the sacrifice that family made for us.
For example, in the summer of 1972, "The Open Door" helped host the first Alaskan Jesus band, "J. C. & Company" from Anchorage. There were concerts at the amphitheater and at the youth center, and even a Jesus March from "The Open Door" to a lake at Fort Abercrombie, where many people were baptized. Ken Covey assisted the band's preacher, Mike Premo. One of the kids baptized was my brother Kelly, now a worship leader at his church in Homer, Alaska. Kodiak had never seen anything like it! The "J. C.& Company" was a huge encouragement to the community of believers in Kodiak, and we immediately incorporated some of their songs into our impressive if unintentional collection of "Alaskan Jesus Music." It was all springing from that deep and vital move of God, and great songs was only a happy side effect. Changed lives and new leaders for God's People were the permanent results. (Continued below…)
Sound sample: "Psalm 47" (Sing Praises) sung by J. C. and Company (from a poorly-dubbed cassette called "Come On Inside" released by the band.)
Sound sample of J. C. and Company: "Any Day" from their self-produced cassette.
For many more sound samples of more of J. C. and Company's songs, including some of our cover versions, use the "Always Jesus People" Soundtrack Page link.
Going Deeper: Lives Transformed
Some truly amazing things began to happen at a personal level, and lives were changed. Many of the events recorded in the early Church were things we now saw firsthand. And a new emphasis on living for Jesus made us new and different in a way we had never dreamed possible. I remember one time when a Navy man named Paul brought a paper bag to the Bible study, and afterwards asked us to walk down to the dock with him. He walked to the edge of the dock, said a prayer of thanksgiving, and dumped his stash of hashish into the bay. But for many others, myself included, our big decision was equally miraculous: we did not give up on "the Church!" We found the truth there to be more vital and more Biblical than we had remembered it being. We were gradually accepted, scraggly hair, jeans and all, when the others saw our sincere love for God and our desire to know His Word. I cannot blame the church members for wanting to see spiritual maturity in us; the wonderful thing was that many of the stalwart church members actively worked to help us mature, as Nina Gilbreath had done from the beginning.
Across the country, similar things were happening, because this was a genuine move of God, as well as a passing cultural fad. Some who were introduced to faith in Christ through the Jesus People not only stayed in "the Church," but helped to transform it. You can find the influence of the Jesus People every time you hear a praise chorus with guitars, a Christian song with a beat, or a sermon that is mostly Scripture yet explained in a down-to-earth way. Every time you see a renewed emphasis on evangelism and a seriousness about the imminent return of Jesus, every time some church leader takes the teaching of the Word more seriously than concerns about the prevailing dress code, all of that can be traced directly to the influence of Jesus People. They were absorbed by "the Church," and in the process, helped to transform it.
There were always problems, as any popular movement will experience. Some people were only "Jesus Tripping" as we called it, and fell by the wayside when the going got tough or when holy living was too tough a choice. Other folks from the movement got sidetracked following experiences and phenomena, and became easy pickings for cultists. Some returned to their old lives when the "Jesus fad" faded after a couple of years, when the difficulty of pretending to follow Jesus became too much of a drag. Some allowed their vision and calling to become commercialized, prepackaged and diluted. For example, there's hardly any similarity between the "Contemporary Christian Music Industry" and the rough-edged sounds we regularly produced. Most in that field have no idea how it all started as a part of a servant-hearted desire to lead people to Jesus! But for many others, there was a genuine revival that not only swept wide across the country, but went deep into their hearts. I often wonder why so many of the people who were young a decade or so before me are so anti-Christian and have so passionately absorbed the philosophies of the secular Left. My only answer is that they never saw a genuine move of God in their generation. We certainly did, and we were forever captured, not by a trend or a fad, but by a genuine move of God. (Continued below…)

Tim and Kelly Smith, 1975, 1976.
We had the great privilege of being the worship leaders at Camp Woody from 1972 to 1976. Kelly went on to be the worship minister at an Anchorage church for years, and now ministers in Homer, Alaska. Below are examples of our song leading over the years.
Sound sample: "That's a Start" (1973) We learned this from Phoenix Sonshine.
Sound sample: "Lift Jesus Higher" (1974) This poor recording still captures an energetic group of high school kids, complete with harmonies and echoes. This was from one of our typical after-dinner sings around the tables, and that group of campers came up with the arrangement.
Sound sample: There's Been a Great Change (We learned this camper favorite from Evelyn Heflen , who served at camp in the 1960's. I was just learning the banjo when Kelly and I recorded this with the Jr. Hi Camp in 1975. Their enthusiasm completely overwhelmed our recording equipment!)
For stories and photos of many people who influenced us and sound samples of our best songs, use the "Always Jesus People" Soundtrack Page link.
Trials, Growth, and Change
All who tasted the revival and stayed true to the Spirit have likely been tempted or tested frequently in their walk with Jesus. Once, when a couple of very sincere cultists came to speak to a youth meeting sponsored by the high school, I found myself momentarily confused by his seemingly logical arguments. From a purely human perspective, he seemed to have all his ducks in a row. I could tell he was missing some key pieces of the story, but I couldn't figure out what they were. I was wracking my brain for the right words to say in reply.
In the group was a brand new Christian, a young lady who probably couldn't put two verses together yet. She raised her hand and piped up brightly, "Can you tell us about the blood of Jesus? What do you think of what He did for us on the cross?" The cultists mumbled something about this being a terrible tragedy, and about the loss of such an important soul. But they soon stammered to silence when the young lady persisted in her question. She knew that Jesus is alive. She felt that the empty words she had heard were unfathomably distant from the fire and light of the power of the risen Christ that she had already begun to experience in her own life. The death of Jesus was a tragedy for the devil, but not for us. Not with the resurrection sealing the promise of new life for us as well. Somehow this new Christian knew this deep down, and it beat anything I, as a Bible-raised preacher's kid, could have come up with.
I looked on, amazed, for the cultists had been suddenly tied into knots. And the young lady, waiting for the good news of the Gospel, might not even have been aware of it. As the cultists mumbled a few polite words of goodbye and left the meeting, the words of Jesus sprang to my memory: "If you cannot believe my words, believe me for the very works themselves." I was both chastened and blessed by the fearless witness of such a young believer; the Spirit had surely spoken through her. "The very works themselves…" I had seen God at work, unmistakably, not only in my life, but in countless others. Whatever anyone could try to say to the contrary, the Jesus People discovered that Jesus is very real, and that He is alive and active today. It is that firsthand knowledge that helped to transform a generation. And that is the key to revival in any generation. Jesus is alive, salvation happens, truth lives; Praise God! (Continued below…)
Sound sample: "Psalm 73 (Whom Have I in Heaven)" (1976) I wrote this song in response to the struggles and challenges I was going through at the time. It was recorded with Kelly in 1976, in the dining hall at Camp Woody between camps. The Soundtrack Page has more recordings of our "special music."
The color photo is from 2006, and the inset is of Rev. Norman Smith (my father) at the same spot in 1966, at the outdoor chapel at Camp Woody.
In 1998, 2006, and 2007, I had the privilege of walking in my father's footsteps (sometimes literally, as in the above photos) as a pastor at Camp Woody. It was a coming full circle, back to where I had grown so much as a young man.
Two photos from 1998: Back at Camp Woody with Music and the Word
Mike Mooney (left) and I leading singing in the chapel / I'm standing to the right of the cross at Upper Inspiration Point, Camp Woody, Alaska, giving the evening message. (Camp Woody collection photos) Two years later, Mike and I collaborated on the album, "The Love and the Mercy" (available from tanignak.com), and Mike wrote two of the songs, including the classic "I'm Glad," used by several church groups in Southern California. Below are two songs recorded at chapel services the summer of 1998 at Camp Woody.
Sound sample: "I Want to See Jesus Lifted High" (1998, led by Mike) – That summer's unofficial theme song (Mike Mooney arrangement)
Sound sample: "Great and Marvelous" (1998, led by Tim) Both recordings feature the natural ambience of the old chapel, a former FAA generator shed, at Camp Woody. Camps are too large to use it now, and used the old rec hall as a chapel from 1999 to 2012, when a new chapel was built.
Epilogue: Always Jesus' People
God does not allow us to keep manna overnight, as the story from the Exodus reminds us. His blessings are new every morning (and in every generation). What God has done in the past should always be remembered as a way of building our faith, not as a formula to be bottled. That is why God instructed the Israelites to build an altar of remembrance as soon as they crossed the Jordan, but to move beyond it into a new land. That is why I write this remembrance of God's great acts in my generation, so those who never saw what we saw may seek God's presence afresh in their generation. Then they will be inspired to reach their world and their friends and their families. It will look different this time, as our movement was different than anything the parents and church leaders had ever seen. And yet it will be the "selfsame Spirit," to borrow Paul's phrase. Any genuine move of God will have the same effect on the hearts of His people. Revival will result in increased obedience, increased hunger for God's unchanging Word, and increased, amazing blessing. But around the edges it might look pretty weird to us older folks, much as our revival must have seemed weird to Nina Gilbreath back in 1971.
It has been fifty* years since many of the events depicted in this article. But I am beginning to see in the young people of today pockets of the same energy, and sparks of the same selfless love of the Lord, the same sense of urgency that propelled us as "Jesus People" so long ago. I see young people heading for mission fields near and far. I see adults growing up and taking Jesus seriously, getting plugged into churches that we would have called "right on" as any in history and yet are as "with it" as we ever were. (Note the quotes; I obviously am hopelessly lost in my own generation's lingo, but you get the point!) I pray for a Church on the edge of revival, perhaps the last one we get before the Great Return. I see a culture on the edge of official hatred of all things Christian, and a government that, like Nebuchadnezzar, keeps asking us to bow down to falsehoods. But Jesus remains the Truth, yesterday, today, and forever. And the Spirit is moving, hearts are healing, souls are stepping out in faith. And we see the signs of the great Return, even if our own departure from this life may come first. For the "Day is closer than when you first believed!"
Our emphasis on a personal, living, transforming Lord is the true legacy of the revival known as the Jesus Movement. Who were the Jesus People? Where are they now? It is more proper to say, "Who ARE the Jesus People?" Anyone who finds in Him a new cause to follow, a new Kingdom to build, a new power for living, and a new hunger to share Jesus with others: this is a true "Jesus Person," regardless of his or her age or location on the map. One Way! Jesus is Coming! (End of original article)
* when originally posted, it was"forty years."
Sound sample: "The Love and the Mercy" (Tim Smith) Sung by the "Stone Table String Band" in 2000 (including on this track our daughter Kirstin). Written and first sung at Camp Woody in 1976. It's a quiet call to become a Jesus Person.
Top Montage: Pomona First Baptist Church welcomes over 10,000 people to our Resurrection Sunday celebration at the Fairplex racetrack in Pomona, California, 2010.
Left: The Montclair High School (California) "Cavaliers for Christ" witness during club rush in the fall of 2010. I was their staff sponsor for 27 years. Two former club members became overseas missionaries, and many became leaders in their churches.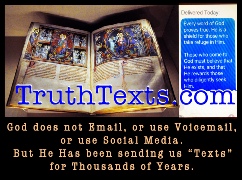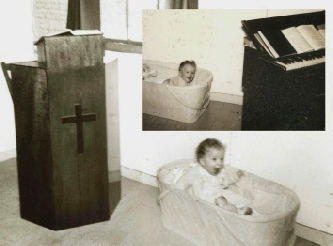 Born and raised in church: "little Timmy Smith" in photos taken in the little chapel in Larsen Bay where my parents were missionaries.
As a child, I learned church culture backwards and forwards. And I love the old hymns and the sound of "King James" English. Unfortunately, the counter-culture kids of the 1960's and 1970's were not interested in anything the old-style church was trying to say. That was about to change!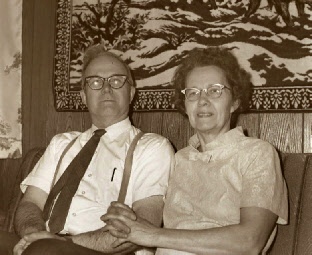 Mr. And Mrs. Gilbreath in their home in Kodiak in 1971.
Nina Gilbreath was from the old-school church, but she saw something in our revival, and prayed with us and for us. She was a spiritual anchor for us. She also ended up being a major force behind our street witnessing, and even the songs we sang, by putting us in touch with the Spokane Jesus People community that published the "Truth Paper." The Gilbreath family told me that as she was bedridden and soon to go to Glory, she listened frequently to tapes of our singing.
"...So now as you listen to me sing this song,
Just let yourself go, come on and join along.
He's standin' here waitin' with His arms open wide,
You and I can walk together side by side.
So clap your hands, clap your hands,
Clap your hands and sing Hallelujah!"
(John Hicks, 1971)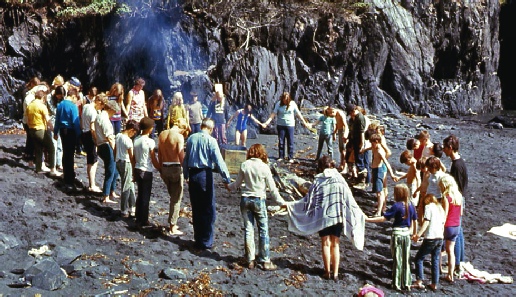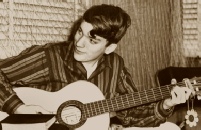 Young people gather for a prayer service on the beach on Woody Island in the early 70's. Inset: the author and his "guitar flower" at the Open Door, Kodiak, 1973
The "Soundtrack Page" below features more of the music that accompanied the events in this article. There are stories and sound samples about the wonderful people who wrote and brought us the music.
Below is a link to the web home of the Wilson McKinley Jesus Rock band, hosted here at Tanignak.com. Read their amazing story of conversion and servant ministry, which I had the privilege of writing. I also restored and released their 1970's albums on CD. Their story is inspiring, and they made fantastic Jesus Rock
To Find Out More About Tanignak.com, Click HERE
To Visit My "About Me" Page, Click HERE
To Return to "Home" Please Click the Site Logo


Information from this site can be used for non-commercial purposes with attribution. The text of all the articles on Tanignak.com and TruthTexts.com are copyright 2020 by Timothy L. Smith (see the "About Tanignak.com" link). The photographs are copyright the estate of Rev. Norman L. Smith, or are copyright Timothy L. Smith unless otherwise attributed. Many thanks to the people who have shared their stories and those who have allowed me to use their photographs on Tanignak.com!